Brazil: International solidarity is crucial to solving Marielle Franco's murder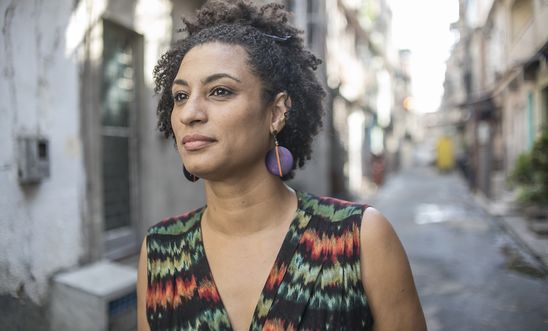 Increased global activism is crucial to pressuring Brazilian authorities into solving the killing of Marielle Franco, Amnesty International said today, two months after she was shot dead in Rio de Janeiro.
A prominent human rights activist, Marielle was known for campaigning for LGBTI and black women's rights, as well as denouncing police abuses and extrajudicial executions in the favelas of Rio. She was elected to the city council in 2016 and was appointed rapporteur of a commission to monitor federal intervention in Rio's public security just a few days before her killing.
Marielle and her driver Anderson Gomes were killed as they were driving home from a public debate on 14 March. At least 13 shots were fired, with four bullets hitting Marielle in the head. Reports in the Brazilian press stated five security cameras that would have captured the incident were turned off the day before her killing.
Jurema Werneck, Executive Director of Amnesty International Brazil, said:
"Without international solidarity, we fear Marielle's tragic killing will not be solved. Two months on, we must keep mobilizing to show the Brazilian authorities that people here and all over the world won't rest until justice is done.

"Every day that goes by without developments casts fresh doubt on the effectiveness of the investigation. We cannot let this case go unsolved.

"Who killed Marielle and Anderson and who ordered the killing? These questions must not be left unanswered.

"We call on the authorities to ensure that the investigation is thorough and effective."
Marielle's killing provoked massive demonstrations in Brazil and around the world. More than 12,000 people from around the world have signed an Amnesty petition calling for an independent and impartial investigation.
Marinete da Silva, Marielle's mother, said:
"We appreciate the seriousness with which the investigation has been conducted and we hope that it carries on like that until we get a concrete answer, not just for the family but for the entire world. We need to keep fighting."
Anielle Francisco da Silva, Marielle's sister, said:
"As long as we have the strength we will demand justice and we will do that by occupying the streets and public spaces. My sister was from the resistance and this is how we will be until the end."