Brazil: arrests in Marielle Franco case welcomed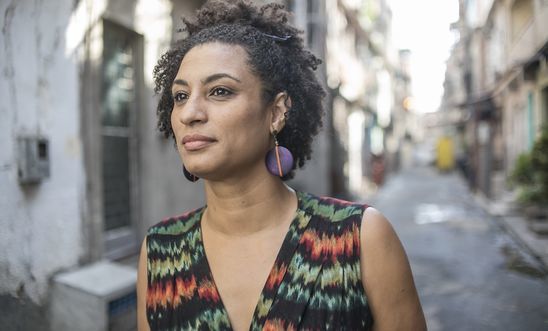 Marielle Franco was a popular city councillor © Amnesty International
Four arrests come more than 18 months after notorious murder of Rio de Janeiro councillor and her driver  
'No human rights defender is safe in Brazil as long as this case remains unpunished' - Jurema Werneck
In response to the arrest of four people in Brazil today in relation to last year's murder of the high-profile human rights defender Marielle Franco and her driver Anderson Silva, Jurema Werneck, Amnesty International Brazil's Executive Director, said:
"We are struck by the existence of a network of people involved in the killing of a human rights defender such as Marielle Franco, who worked for the common good, to benefit the citizens of Rio de Janeiro. 

"We continue to follow the development of the investigations and remain deeply concerned about the delay in identifying who ordered the crime. 

"We remain committed to Marielle's family, Brazilian society and the global community as they demand answers to the question: 'Who ordered Marielle killed and why?'"

"We demand justice in this emblematic case of the killing of a human rights defender who always fought for the most vulnerable and was killed while serving her term as city councillor. 

"The message is clear: no human rights defender is safe in Brazil as long as this case remains unpunished."
International repercussions
In another development today, a warrant was issued against former military police officer Ronnie Lessa, who is already in prison accused of carrying out the Franco- Silva killings.
Last month, Amnesty sent letters to the Rio de Janeiro Public Prosecution Service and state governor Wilson Witzel, demanding the resolution of the case 18 months after Franco and Silva's killings. Last week, the Rio de Janeiro Public Prosecutor's Office responded, saying Amnesty's letter will be incorporated into the case file to show the international repercussions of the crime. In March, Amnesty delivered a petition to the Rio de Janeiro governor and state attorney general Eduardo Gussem with 780,000 signatures from people around the world calling for justice in the case.