Branson siblings get behind Give a Home and secure Ed Sheeran and Emeli Sandé for the line up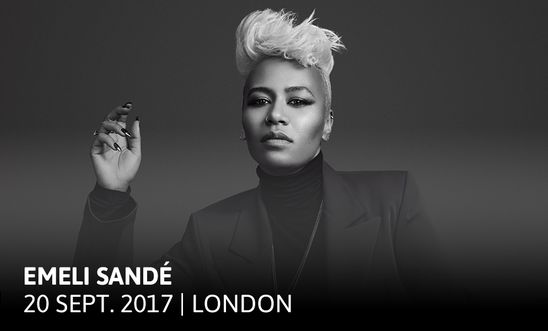 Emeli Sandé joins the line up of artists for Give a Home
1,000 musicians will perform on 20 September for Amnesty International and Sofar Sounds' global refugee solidarity concerts: Give a Home
Holly and Sam Branson will be teaming up with major artists Emeli Sandé and Ed Sheeran for Amnesty International and Sofar Sounds' global refugee solidarity concerts on 20 September. Sam Branson will host British superstar, Emeli Sandé, in his London home for an exclusive performance, and his sister Holly is hosting her own show at a home in DC where she has secured a very special performance from her good friend Ed Sheeran after inviting him to perform alongside other artists.
Fans only have until Sunday 10 September to apply to win tickets for the Give a Home concerts, which are in aid of supporting the rights of more than 22.5 million refugees around the world.
Sam Branson, who is hosting for Emeli, said:
"As a lover of music, I couldn't be more happy to host such a talent at my own home. It's going to be a very special evening for such a great cause. Really looking forward to it!"
 Holly Branson, who is hosting Ed Sheeran, said:
 "In creating a global campaign dedicated to shining a light on the ever-growing refugee crisis, people the world over are being united through a love of music and a passion for change. It's going to be an incredibly special night and I'm so thankful to have Ed there to perform."
 Kate Allen, Amnesty UK Director, said:
 "It's incredible to have the support from amazing artists such as Ed Sheeran and Emeli Sandé, as well as everyone opening up their homes, hosting and attending gigs.

"Music lifts our spirits, helps us think about things in new ways and it knows no borders.  

"These concerts will bring people together to show solidarity with refugees and celebrate what unites us. We hope that this symbol of unity will send a strong message to governments around the world to do a lot more to support and welcome refugees."
Give a Home brings together an incredible line-up of award-winning artists such as Emeli Sandé, Ed Sheeran, Laura Mvula, Tom Odell, Hozier and many more. The intimate concerts will take place in various people's homes around the world on Wednesday 20 September and features performances from refugee artists, including the Orchestra of Syrian Musicians who will join the line-up with Kate Tempest in London.
Further artists confirmed to perform in London include Daughter, Tom Chaplin, Ghetts and Nick Mulvey. The Fratellis, The National, Nadine Shah and many more are playing elsewhere in the UK. The full list of gigs is available on sofarsounds.com/giveahome, where fans have until 10 September to apply for tickets for the shows taking place in their city.
Launched on World Refugee Day in June, Give a Home will see 1,000 musicians playing in more than 300 shows in people's homes in more than 60 countries worldwide. The concert series brings together some of the world's most recognised musicians, refugee artists and activists with local communities. The money raised will support Amnesty's work to protect human rights around the world.
Give a Home comes as the global refugee population exceeds 22 million – the worst refugee crisis since the Second World War – with people forced to flee conflict and persecution across the world. The number of refugees from the brutal conflict in South Sudan alone has passed one and a half million, making it Africa's largest refugee crisis, and the third biggest in the world after Syria and Afghanistan.
ENDS
NOTES TO EDITORS
List of the latest artists added to the global line-up are (A-Z): Alain Clark, Amber Coffman, Archive, Billy Bibby & The Wry Smiles, Blaenavon, Bokanté, BØRNS, Brett Dennen, Esperanza Spalding, Get Cape. Wear Cape. Fly, HAERTS, Hozier, Imelda May, Jakubi, Jesse & Joy, Joan As Police Woman, Jon Hopkins w/ Leo Abrahams, Juana Molina, Julia Holter, Kamau, Kate Miller-Heidke, Laura Mvula, Ledisi, Lisa Hannigan, Ludovico Einaudi, Majozi, Marika Hackman, Mashrou' Leila, Moby, Molly Kate, Kestner, Nick Mulvey, Nick Waterhouse, Peggy Seeger, Ryan Cabrera, Seratones, Shamir, Sivu, Stonefield, The Hoosiers, The Mowgli's, Time For Three, To Kill A King, Tom Odell and We Were Promised Jetpacks.
Give a Home for Human Rights
The concert series is a collaboration between Amnesty International, the world's largest human rights organisation, and Sofar Sounds, a London-based company that specialises in arranging secret concerts in people's homes around the world. Sofar Sounds have previously hosted shows in venues ranging from back gardens in Cape Town to greenhouses in Tokyo.
Ticket availability
Applications for tickets are open until September 10 through sofarsounds.com/giveahome. People can select the city and event of their choice to be in with a chance of winning two tickets. They will have the option of making a donation when applying for tickets. The funds raised by the project will support Amnesty's work to protect human rights around the world.
Give a Home is supported by VICE, Shazam and Facebook Live, which will be live-streaming and promoting the concerts globally.
Tackling the global refugee crisis and 'I Welcome'
The refugee crisis affects the lives of more than 22 million people worldwide. Almost all are hosted outside the wealthiest nations, and currently just ten of the world's 193 countries host more than half its refugees.
Give a Home is part of Amnesty's 'I Welcome' campaign, which calls for a better international response to the global refugee crisis through governments sharing responsibility for hosting and assisting refugees.The campaign also aims to build grassroots solidarity with refugees, and create more welcoming communities across the UK for those fleeing conflict and persecution.
Amnesty's research shows that four in five people around the world are open to welcoming refugees.
Sofar Sounds
Sofar Sounds is a global, grassroots network of artists, hosts and guests, all with the goal of helping to bring the magic back to live music. Sofar sounds curate secret, intimate gigs in unique spaces, from living rooms and churches to hoodie shops and fancy furniture showrooms. Sofar sounds aim to create performance spaces that are respectful to artists, where the audience lives in the moment and listens closely to the music.
Sofar sounds started as a hobby in London back in 2009, became a business a few years ago, and have grown into a global community of music lovers, supporting thousands of artists around the world, putting on hundreds of gigs every month across hundreds of cities.