Boris Johnson urged to ban goods from Israeli settlements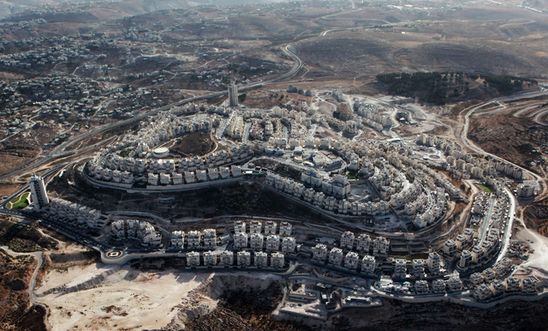 The settlement of Har Homa on the outskirts of East Jerusalem © AFP/Getty Images
'All settlement goods are tainted by illegality and the UK Government should put a stop to the trade in these goods' - Kate Allen
The Foreign Secretary Boris Johnson is being asked to ban the sale in the UK of all products from Israeli settlements.
The call, part of a new Amnesty International campaign marking the 50th anniversary of Israel's occupation of the West Bank, including East Jerusalem, and the Gaza Strip, also asks the Foreign Secretary to stop companies in the UK from operating in the settlements or trading in settlement goods.
Hundreds of millions of pounds' worth of goods produced in Israeli settlements built on occupied Palestinian land are exported internationally each year despite the fact that most countries around the world have officially condemned the settlements as illegal under international law. Israeli and international businesses have also enabled and facilitated settlement construction and expansion. 
In the UK, imported settlement goods include oranges, dates, spring water and halva desserts.
During the course of the 50-year occupation, more than 50,000 Palestinians have had their homes demolished, while some 600,000 Israeli settlers have moved into illegally-constructed settlements, many serviced by settler-only roads and guarded by a network of Israeli military checkpoints. In total, approximately 1,000 square kilometres of Palestinian land has been expropriated by settlers in the past half-century. 
Amnesty has pointed out that all countries have a clear obligation to ensure respect for international humanitarian law and shouldn't recognise or assist in any manner the illegal situation that Israel's settlement policy has created.
Last month, the UN human rights commissioner Zeid Ra'ad al-Hussein sent letters to around 150 international and Israeli businesses warning them that they may be included in a UN database of companies involved with illegal settlements due to be published in December.  Meanwhile, last week, the major Danish pension fund Sampension excluded four companies from its portfolio for their ties to Israeli settlements.
As part of its campaign, Amnesty has launched a new website - 50yearstoomany.uk - with an audio-visual overview of the 50-year occupation. 
Kate Allen, Director of Amnesty International's United Kingdom Section, said:
"As Boris Johnson will know from his visits to the region, the settlements have robbed thousands of Palestinians of their land and livelihoods.

"All settlement goods are tainted by illegality and the UK Government should put a stop to the trade in these goods.

"With a UN 'name and shame' list looming, it's time the UK showed some moral leadership on this issue."
The call on the Foreign Secretary is part of an ongoing "Ban Israeli Settlement Goods" campaign. For more information and background - go here.