Belfast 'Refugees Welcome' rally announced for Saturday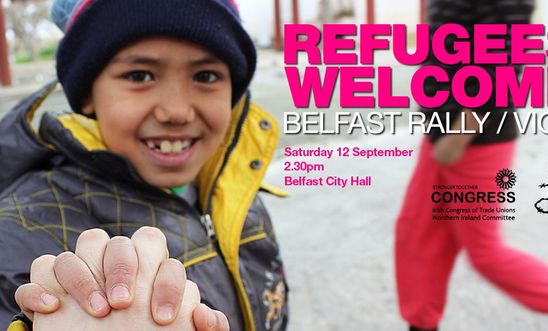 A rally to show support for refugees fleeing war-torn Syria will be held in Belfast on Saturday.
The demonstration, to take place in front of Belfast City Hall on Saturday 12th September has been called by the Irish Congress of Trade Unions and Amnesty International. It will take place just two days before a summit of European Union ministers to discuss the escalating refugee crisis.
Peter Bunting, Assistant General Secretary of the Irish Congress of Trade Unions, said: 
"From war-torn Syria and elsewhere across the Middle East, families are being forced to flee their homes in fear for their lives.
"Europe is not doing enough to offer them safety and the response of the UK has been shameful. Too often, refugees are left to the mercy of unseaworthy boats or the back of refrigerated lorries. We can and we must do better than that.
"People fleeing war need safe and legal routes to reach Europe. That is the call that we will be sending out from Belfast City Hall next Saturday – that refugees are welcome."
Patrick Corrigan, Northern Ireland programme director of Amnesty International, said:
"We're facing the biggest test of our humanity in decades – to date David Cameron and the UK government have failed badly. 
"It's time for the UK to accept its fair share of people fleeing war and persecution. We can only solve this crisis with co-operation and solidarity across Europe.
"People power is already having a impact on this issue across Europe. We want to send a message from Northern Ireland that people here want to welcome refugees."
The 'Refugees Welcome' rally will be held in front of Belfast City Hall on Saturday 12 September at 2:30pm. Details here.