Belarus: Workers arrested during vicious crackdown on peaceful protesters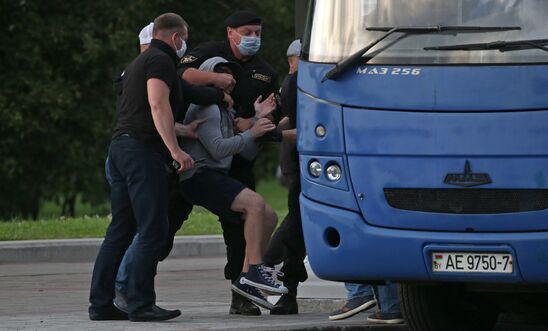 © Natalia Fedosenko/TASS/Getty
At least 100 people have been arrested in Belarus today as workers took part in a national strike called by opposition leader Svetlana Tikhanovskaya, in a "crackdown on peaceful protests", Amnesty International said today.
Workers from Grodno Azot - one of Belarus' leading chemical companies - were detained by police from 7am as they were about to join the strike. According to Human Rights Centre Vyasna, over 100 people have been arrested in connection with the strike. 
Yesterday, police used rubber bullets and stun grenades on a peaceful rally of about 100,000 people in Minsk. Protesters running away were chased, shot at and beaten. Disturbing footage also shows riot police storming into a private apartment and beating those inside it. Vyasna said over 300 people have been detained in Minsk and other Belarusian cities for taking part in peaceful rallies.
Denis Krivosheev, Amnesty International's Acting Director for Eastern Europe and Central Asia, said:                                                                                                                                                                                 "In response to the Lukashenka government's crackdown on peaceful protests, opposition leaders called for a national strike beginning today.
"We see with shock and dismay how this regime, which has unleashed weeks of unspeakable violence against protesters in streets and prisons, today sent masked riot police to beat and arrest striking workers at their workplaces.
"A frank disregard is being shown for the most basic of human rights, and the right to strike is now one more that is being mercilessly crushed with police boots and batons.
"The Belarusian government must immediately end police violence against peaceful protesters."
Amnesty is calling for authorities to immediately and unconditionally release all those arrested and facing administrative or criminal proceedings merely for trying to exercise their rights to freedom of expression and peaceful assembly, and their rights to form independent associations and to strike.