Belarus: 'Sham trial' of prominent political activists denounced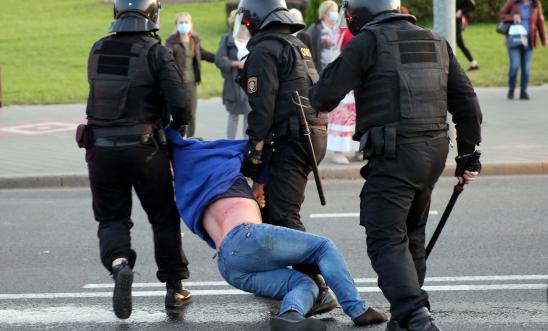 Opposition protest © TUT.BY/AFP via Getty Images
A court today in Belarus has begun a "conspiracy to seize power" trial against prominent political activists, including the leader of the Belarusian Popular Front party, Ryhor Kastusyou.
In response to this "sham trial", Marie Struthers, Amnesty International's Director for Eastern Europe and Central Asia, said: 
"Another show trial begins in Minsk with the sole purpose of punishing Alexander Lukashenko's critics and discouraging any challenge to his repressive policies.

"Unlike other sham trials which are usually held behind closed doors, this one will be open to the public so that all the world can see it for what it is – a desperate attempt to crush dissent. 

"All critics of the Belarusian authorities detained solely for peacefully exercising their right to freedom of expression must be immediately and unconditionally released and all charges against them must be dropped." 
Political activists
The Minsk Regional Court began hearings in a trial today against the leader of the Belarusian Popular Front party Ryhor Kastusyou, political consultant Alyaksandr Fyaduta, lawyer Yury Zyankovich, his former employee Volha Halubovich and Dzyanis Krauchuk, an activist. 
Fyaduta and Zyankovich were detained on 12 April last year in Moscow and later transferred to Belarus. On the same day, Kastusyou and Halubovich were put behind bars in Minsk followed by Krauchuk on 26 April.