Bahrain at 'tipping point' as crackdown continues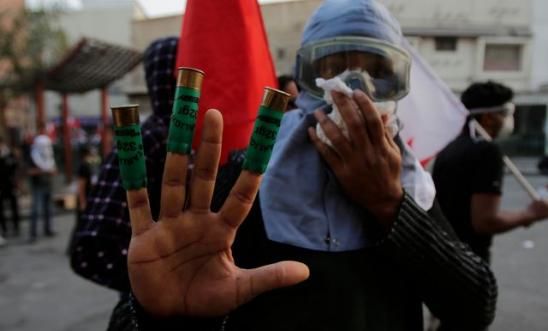 Protests have been taking place at regular intervals in Bahrain for the last six years © AP/Hasan Jamali
Protesters injured by birdshot and teargas as protests break out marking 2011 uprising anniversary 
The authorities in Bahrain must refrain from using excessive force against protesters, Amnesty International urged today, with mass protests taking place to mark the sixth anniversary of the country's 2011 uprising.
Bahrain is on the verge of a human rights crisis, said Amnesty, with recent weeks seeing increased repression - including violence against protesters, executions, arbitrary detentions and a crackdown on freedom of expression. 
On the evening of 12 February, hundreds of protesters took to the streets in several villages in protest at the authorities not allowing the performance of religious funeral rituals for three men who were killed by coast guard forces three days earlier after escaping from Jaw prison on 1 January. Bahraini Shia religious figures had called for mass rallies in protest. 
Some protests remained peaceful, while others turned violent. Amnesty has obtained reports and photos of injuries to protesters caused by the security forces firing birdshot. In Sitra, a large armoured vehicle was filmed being driven toward protesters, appearing to fire tear gas at body height, causing injuries. The vehicle was then bombed, with the group Al-Muqawama Liwehdat al-I'lam al-Harbi claiming responsibility for it. The Bahraini authorities have not commented publicly on this attack. 
Tensions have risen in the country since the 15 January execution of three men after a grossly unfair trial. In response, protests erupted in 20 Bahraini villages, a number of which turned violent, with government armoured vehicles charging at protesters, as well as the security forces using tear gas and shotguns to fire birdshot directly at protesters. 
Amnesty has seen video footage of armed men wearing black balaclavas firing Benelli semi-automatic shotguns during clashes in Duraz on 26 January.  It is unclear whether they were firing live ammunition or less-lethal riot control ammunition. Additional masked men were seen carrying drawn semi-automatic handguns, as well as one carrying an MP-7 Personal Defense Weapon. In some instances, protesters also resorted to violence against the security forces, throwing Molotov cocktails and burning tyres, injuring at least two police officers. According to the Ministry of Interior, two police officers have also been killed. One police officer was shot in Bani Jamra on 14 January and later died from his injuries, while an off-duty police officer was shot and killed by armed men in Bilad al-Qadem on 29 January. 
Scores of people have been arrested, including Munir Mshaima, the brother of Sami Mshaima, one of the three men executed. He was arrested immediately after his brother's funeral, accused of "insulting the King" during the proceedings. He was released the following day. 
More protests erupted on 29 January, seeing thousands of people peacefully protesting ahead of the following day's trial of Sheikh Issa Qassem, the spiritual leader of the Al Wefaq opposition party, which was dissolved last July. 
Lynn Maalouf, Deputy Director at Amnesty International's Beirut office, said:
"Bahrain is at a tipping point. 

 

"The first six weeks of 2017 alone have seen an alarming upsurge in arbitrary and abusive force by security forces as well as the first executions since the uprising in 2011.

 

"For six years, the Bahraini government has been claiming that it has taken meaningful steps towards reform and upholding its human rights obligations, including by prosecuting those who were responsible for the violations that took place during the 2011 uprising. But the past few weeks have seen a very concerning renewed pattern of violations, including arbitrary detention and torture, facilitated by a continuing climate of impunity.

 

"The authorities must rein in the security forces, respect the rights to peaceful assembly, association and expression, and stop executions, otherwise a full-blown human rights crisis risks breaking out." 
Six-year clampdown on free expression and political protest
Despite claims over its reforms, the Bahraini government has cracked down over the past six years on freedom of expression, by increasing arbitrary restrictions on the media, banning protests in Manama and imprisoning those who voice their opinion. 
Last year the prominent human rights activist Nabeel Rajab was yet again imprisoned, the main opposition party Al Wefaq was dissolved and its spiritual leader - Sheikh Issa Qassem's  - nationality arbitrarily revoked and its Secretary General Sheikh Ali Salman given a nine-year prison sentence for peacefully stating his party's goal of pursuing power in Bahrain.
On 16 January, the Ministry of Information issued an order suspending the online edition of Al-Wasat, an independent newspaper, due to its "repeated broadcastings inciting to discord in society and the spirit of sedition, disruption of national unity that affects public peace." The ministry reinstated Al-Wasat's online edition three days later. Meanwhile, the authorities continue to detain Dr Ali al-Ekri and 11 opposition activists - including Abdulhadi al-Khawaja and Hassan Mshaima - who were arrested for peacefully opposing the government during the 2011 uprising. Many of those detained have alleged they were tortured during their interrogations. They described being beaten, forced to stand for extended periods of time and being threatened with rape by officers of the National Security Agency.