Bahrain: opposition leader given six-month sentence for tweet about Sudanese president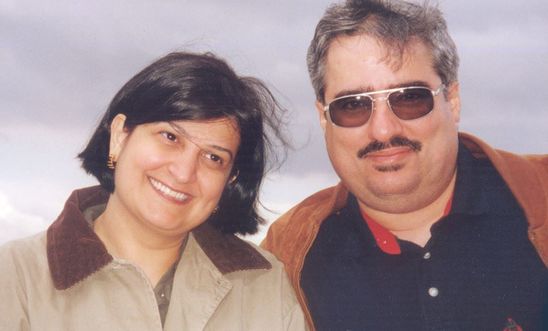 Ebrahim Sharif, with his wife Farida Ghulam © Private
Opposition leader Ebrahim Sharif had tweeted about Omar al-Bashir's 'dictatorial' rule
'The silence of Bahrain's key allies, namely the USA and the UK, plays no small part in the unchecked pattern of repression' - Lynn Maalouf 
Responding to news that earlier today a court in Bahrain convicted and sentenced the opposition leader Ebrahim Sharif to six months in prison for a tweet criticising Sudanese President Omar al-Bashir, Lynn Maalouf, Amnesty International's Middle East Research Director, said: 
"Ebrahim Sharif's trial and sentencing is simply the latest development in the Bahraini authorities' sustained and systematic repression against their own citizens. 

"It is flabbergasting that someone can be made to appear before a court and stand trial - let alone serve a sentence - for simply having expressed their opinion on Twitter. 

"The Bahraini authorities must quash the conviction and sentence for Ebrahim Sharif and other peaceful critics. 

"The silence of Bahrain's key allies, namely the USA and the UK, plays no small part in the unchecked pattern of repression. 

"The international community must use its influence in sending a clear message to the Bahraini authorities that such practices cannot be tolerated." 
25 December tweet
The prosecution's case against Ebrahim Sharif was based on a tweet posted on 25 December, with a photograph of President al-Bashir and the text: 
"Get out of here, man ... 30 years ago, Omar al-Bashir came on the back of a tank claiming 'salvation'. During his reign, civil wars have piled up, the South seceded, and he has impoverished, starved and degraded the kind and noble Sudanese people. The time has come for freedom for the Sudanese and the departure of the dictatorial president. #Cities_of_Sudan_Are_Rising_Up." 
In 2009 and 2010 Bashir was indicted by the International Criminal Court on multiple counts of genocide, crimes against humanity and war crimes.
Ebrahim Sharif's sentence was issued under Article 215 of the Bahraini Penal Code, under which anyone can be imprisoned for up to two years for "publicly insulting a foreign country … or its leader." Prosecutions under the law require the direct approval of the Minister of Justice - a member of the royal family. In addition to the six-month prison term, Sharif was fined 500 dinars (approximately £1,000). He intends to appeal and pay bail to remain at liberty while his appeal is pending.
Former POC
A former prisoner of conscience, Ebrahim Sharif is a member of the Central Committee of Wa'ad (National Democratic Action Society), a non-sectarian Bahraini political association (formal political parties are not permitted under Bahraini law). The Bahraini judiciary dissolved Wa'ad in May 2017, a decision that was upheld at the Court of Cassation, the highest level of appeal, on 21 January 2019.
Since the mass popular protests of 2011, Amnesty has documented an extensive pattern of prosecutions for speech across the countries of the Gulf Cooperation Council. Bahrain and its neighbours have all imprisoned peaceful critics of government for expressing their views at an increased rate since 2011.