Bahrain: London embassy hunger strike highlights plight of four frail prisoners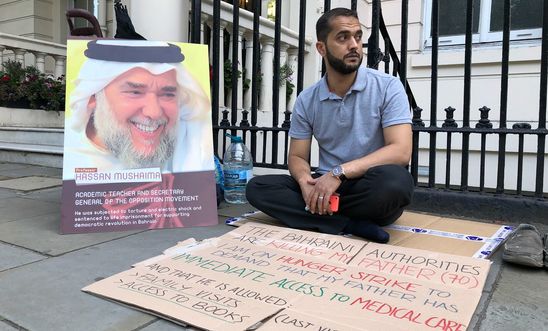 Ali Mshaima began his hunger strike outside the Bahrain Embassy in London on 1 August © Private
Hassan Mshaima - whose son Ali recently began a hunger strike outside Knightsbridge embassy last week - is being denied diabetes pills and other medication as punishment for his jail protests
'These men are elderly, frail and suffering' - Lynn Maalouf 
Amnesty International is calling for the release of four seriously-ill Bahraini prisoners of conscience, one of whom is the subject of a hunger strike outside the Bahrain Embassy in London by the man's son.
Last Wednesday, Ali Mshaima - the son of Hassan Mshaima, 70, one of the four jailed men - began his embassy hunger strike to protest against the ill-treatment of his father by the Bahraini prison authorities.
Hassan Mshaima is one of four men - the others are Abdel-Jalil al-Singace (56), Abdel-Wahab Hussain (64) and Abdel-Jalil al-Miqdad (58) - who are being denied vital medical care in jail because of their refusal to wear prison uniforms or submit to shackles, saying they are prisoners of conscience, not criminals. 
In response, the prison authorities have denied them access to the prison doctor or external doctors, and visits from their families have been stopped. Up until February 2017, the four men were able to wear civilian clothes, attend prison-transfer doctors' appointments unshackled and receive visits from relatives.
The four men were sentenced to life imprisonment in 2011 after an unfair trial for their part in widespread peaceful anti-government protests. In the same case, nine other opposition activists received sentences ranging from five years to life imprisonment. Two of them have since been released. 
Hassan Mshaima needs around ten different medications for erratic blood pressure, diabetes, urinary-tract irritation and gout. He has now run out of diabetes pills, and must receive insulin shots in his cell. The prison administration is not providing these on a sufficiently regular basis and is refusing to replenish supplies of his other medications.
Lynn Maalouf, Amnesty International's Middle East Research Director, said:
"That anyone can bring themselves to treat people with such cruelty is unbelievable. 

"These men are elderly, frail and suffering the severe debilitations that come with serious chronic illnesses such as hypertension and diabetes.

"Hassan Mshaima, Abdel-Jalil al-Singace, Abdel-Wahab Hussain and Abdel-Jalil al-Miqdad have been imprisoned solely for taking part in peaceful protests. 

"They should not have been arrested, tried or imprisoned in the first place, let alone continue being subjected to this ill-treatment that is now endangering their lives. They must be released immediately and unconditionally."