Bahrain: jailing opposition leader Ali Salman is 'shocking'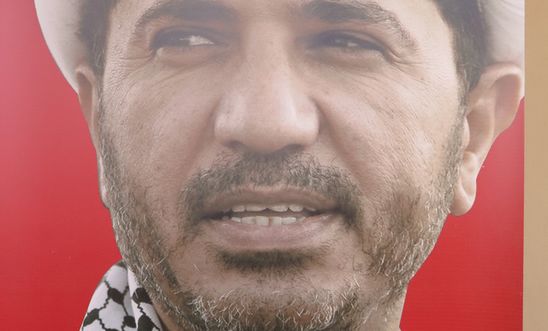 Amnesty considers Salman to be a prisoner of conscience detained solely for peacefully expressing his views © Amnesty International
Today's four-year jail sentence for Sheikh Ali Salman, the Secretary General of Bahrain's main opposition political party Al-Wefaq National Islamic Society, has again demonstrated the Bahraini authorities' disregard for the right to freedom of expression, said Amnesty International.
Sheikh Ali Salman, was arrested on 28 December, two days after he delivered a speech calling for serious political reform and accountability after his re-election as party leader. He stood trial on charges of "incitement to promote the change of the political system by force, threats and other illegal means", "public incitement to loathing and contempt of a sect of people which will result in disrupting public disorder", "publicly inciting others to disobey the law" and "publicly insulting the Interior Ministry". 
Sheikh Salman's detention and prosecution violate Bahrain's obligation to respect the right to freedom of expression under Article 19 of the International Covenant on Civil and Political Rights, to which Bahrain is a state party.   
Amnesty considers Salman to be a prisoner of conscience detained solely for peacefully expressing his views. 
Amnesty International Middle East and North Africa Deputy Director Said Boumedouha said:
"Today's verdict is shocking. It is yet another clear example of Bahrain's flagrant disregard for its international obligations. Sheikh Ali Salman has been sentenced solely for peacefully expressing his opinion.

 

"For a country that has expressed outrage at criticism of its human rights records, Bahrain has not hesitated to suppress political opposition and muzzle critical voices at every opportunity. 

 

"The authorities must release Sheikh Ali Salman immediately and unconditionally, and ensure his conviction is quashed."