Bahrain Embassy, London: activists to count down release of jailed teachers' union head Mahdi Abu Dheeb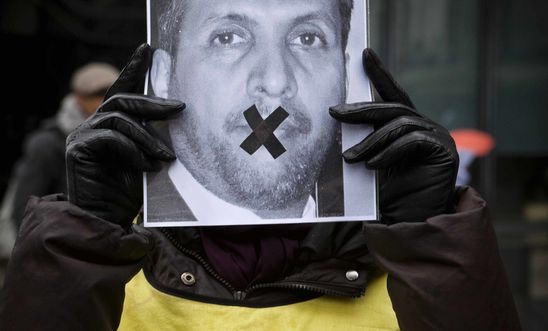 53-year-old Mahdi Abu Dheeb was arrested during a crackdown against the 2011 protests in Bahrain © Pierre Yves-Brunaud/Picturetank
Amnesty International is staging a "Mahdi countdown" at the Bahrain Embassy in central London this Friday afternoon (1 April) ahead of the scheduled release of jailed teachers' union leader Mahdi Abu Dheeb. 
Abu Dheeb, who has been serving a five-year jail sentence, is due for release on 4 April. He was originally sentenced to ten years in prison by a military court in Bahrain in 2011, having been accused - amongst other things - of using his position to call for a strike by teachers, of halting the educational process, and of "inciting hatred of the regime".
His sentence was reduced to five years on appeal in 2012, though Amnesty has named him a prisoner of conscience and has been calling for his immediate and unconditional release. 
Some 50 Amnesty activists - with Amnesty-branded clothing and placards reading "Three Days To Go" and "#FreeAbuDheeb" - will assemble near the Bahrain Embassy (30 Belgrave Square, London SW1X 8QB) at 2.30pm.
There will be an opportunity for photographs, with the Bahrain Embassy as a backdrop.