Bahrain: call for release of Nabeel Rajab ahead of verdict in his Twitter 'insults' case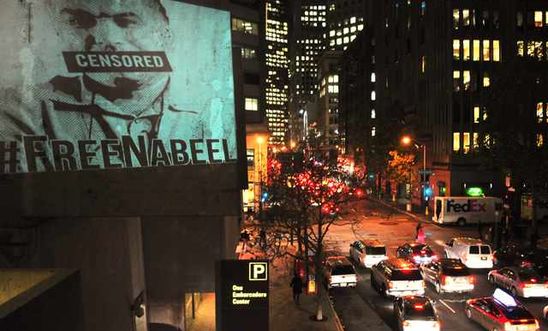 Only the USA and Norway have publicly called for Nabeel Rajab's release © Amnesty International (Tina Xu)
'Convicting Nabeel Rajab would be a terrible injustice' - Hassiba Hadj Sahraoui
The Bahraini authorities must immediately release Nabeel Rajab, the prominent human rights activist who has been put on trial over tweets that were deemed insulting to the Ministries of Interior and Defence, said Amnesty International ahead of an expected verdict in his case tomorrow.
Rajab, the President of the Bahrain Centre for Human Rights and the Director of the Gulf Centre for Human Rights, was arrested earlier this month after posting comments online about reports that members of Bahrain's security forces had joined the Islamic State armed group in Iraq. 
Bahraini legislation criminalises insulting or disrespecting heads of state, public figures, the military, government institutions or national flags or symbols, and Rajab faces up to three years in jail for "publicly insulting official institutions".
During the first hearing in his case on 19 October, Rajab explained that he was merely exercising his right to freedom of expression and as a human rights activist would only ever do so peacefully. He denied the charges against him and said he had not committed any crime. Only his older brother was allowed to attend the court session, the rest of his family was denied entry. Rajab has been detained at al Hoora police station since his arrest. 
Shortly after his arrest, the UN Office of the High Commissioner for Human Rights called for Rajab's release, though only the governments of Norway and the USA have so far publicly demanded his release. Rajab's latest arrest comes after his return to Bahrain on 30 September after a two-month advocacy tour across Europe to highlight the human rights situation in Bahrain. He has previously served a two-year prison sentence on charges of  participating in an "illegal gathering", "disturbing public order" and "calling for and taking part in demonstrations" in Manama "without prior notification", before being released this May.
Amnesty has repeatedly called on the Bahraini authorities to repeal articles in its penal code that criminalise freedom of expression, but so far these calls have fallen on deaf ears. 
Amnesty International Middle East and North Africa Deputy Director Hassiba Hadj Sahraoui said:
 

"Convicting Nabeel Rajab would be a terrible injustice. It would only be further proof that respect for the right to freedom of expression in Bahrain is under attack.

 

"Prosecuting anyone merely for peacefully expressing their political views is a clear form of repression and a brazen violation of their rights. Nabeel Rajab is a prisoner of conscience, he must be released immediately and the charges against him must be dropped.

 

"The silence of the international community over human rights violations in Bahrain is deafening. Governments with close ties to Bahrain, in particular the UK, and who claim to be pushing a human rights reform agenda, must speak out publicly and denounce the arrest of Nabeel Rajab and other government critics."
Clampdown on freedom of expression
Other activists in Bahrain have faced prosecution for exercising the right to freedom of expression. Activist Nader Abdulemam was sentenced to six months in prison last Wednesday for "insulting" a figure of worship after he made comments on Twitter about Khaled bin al-Waleed, a companion of the prophet Muhammad.
Human rights activist Zainab Al-Khawaja, who is heavily pregnant, was arrested on 14 October for tearing up a picture of the King of Bahrain in court and is currently under arrest and on trial for "publicly insulting the King". Similarly, Ghada Jamsheer, a women's rights activist, is facing trial for comments she made on Twitter denouncing corruption in King Hamad University Hospital. 
Amnesty has been calling on the Bahraini authorities to drop charges in all these cases and release these activists as they are held merely for peacefully expressing their opinion.