Azerbaijan: European Court win for journalist who faced sex-tape ordeal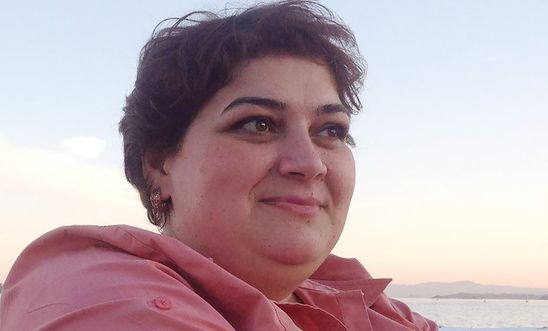 Azerbaijani journalist Khadija Ismayilova was sentenced to seven and a half years imprisonment at a trial in September 2015 © RFE/RL
'Khadija is one of many journalists and activists who have been targeted as part of the Azerbaijani government's ruthless crackdown on dissent' - Levan Asatiani
The European Court of Human Rights (ECHR) has today ruled in favour of an Azerbaijani journalist who was subject to a sex-tape smear campaign after investigating government corruption.
The ECHR ruled that the Azerbaijani authorities failed to investigate a "sex video" of Radio Free Europe reporter, Khadija Ismayilova, which was covertly recorded in 2012, and also failed to investigate the subsequent threats of its public disclosure.
Ismayilova had been investigating claims of links between President Ilham Aliyev's family and a lucrative construction project in Azerbaijan's capital Baku when she received a letter on 7 March 2012 containing intimate pictures of her. Unknown individuals had apparently secretly entered her apartment and placed hidden cameras in her room.
The letter threatened to "shame" her if she did not abandon her journalistic work, but she refused to be silenced and publicly exposed the attempted blackmail. The intimate video recordings were posted online soon afterwards.
Ismayilova applied to the ECHR in 2014, claiming that the Azerbaijani authorities were either directly responsible for the sex tape, or else did not fulfil their duty to protect her right to privacy and freedom of expression by effectively investigating the case.
In its judgement today, the Court noted that the authorities in Azerbaijan have created an environment which "may produce a grave chilling effect on freedom of expression".
Levan Asatiani, Amnesty International's Senior Campaigner on Europe and Central Asia, said:
"Almost seven years after becoming the victim of a vile smear campaign, Khadija Ismayilova has finally been delivered a sliver of justice.
"Khadija is one of many journalists and activists who have been targeted as part of the Azerbaijani government's ruthless crackdown on dissent. This judgment, which states that Khadija's rights to privacy and freedom of expression were violated, sends a clear message that Azerbaijan's repression of human rights defenders will not be tolerated.
"Today's ruling lays bare the failings of the so-called official investigation into the smear campaign against Khadija Ismayilova. The government must re-open this investigation and ensure that those responsible for the targeting of Khadija Ismayilova are identified and brought to justice."
Court ruling
The Court ruling said that the threat of public humiliation and the invasion of Khadija Ismayilova's privacy were either linked to her work as a journalist, or at least should have been treated as such in the investigation. It concluded that Azerbaijan has breached its obligation under Article 10 of the European Convention on Human Rights to protect journalistic freedom of expression. It has also breached its obligation under Article 8 to protect intrusion into private life.
'They thought this would destroy me, but they have destroyed themselves'
Ismayilova has repeatedly faced harassment by the Azerbaijani authorities. Amnesty recognised her as a prisoner of conscience and campaigned for her release when she was detained in 2014 and sentenced in 2015 on trumped-up charges of embezzlement, illegal entrepreneurship, tax evasion and abuse of office. Following international pressure, Ismayilova was released conditionally in 2016 and placed under a travel ban.
In 2015, Ismayilova also launched a separate case to the European Court of Human Rights regarding her criminal prosecution. 
She previously told Amnesty: "They thought this would destroy me, but they have destroyed themselves. Now the world will know how independent journalists are treated in Azerbaijan."