Azerbaijan: Baku hosts Europa League Final as government crackdown continues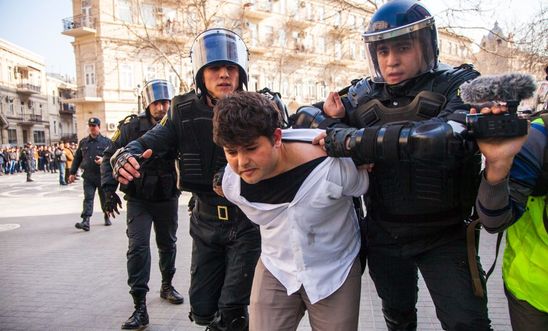 Protesters clash with authorities in Baku © Demotix
All-English final as Arsenal take on Chelsea in Baku
Human rights defenders at risk for sharing critical opinions
"We must ensure that Azerbaijan isn't allowed to 'sportswash' its appalling human rights record as a result of the football fanfare" – Kate Allen
Ahead of the Europa League Final between Arsenal and Chelsea in Azerbaijan next week, Amnesty International has warned of an ongoing government crackdown on human rights in the country.
Kate Allen, Amnesty International UK's Director, said:
"Fans will be glued to their TVs during this game, but we must ensure that Azerbaijan isn't allowed to 'sportswash' its appalling human rights record as a result of the football fanfare.
"Azerbaijan is in the grip of a sinister human rights crackdown, with journalists, bloggers and human rights defenders being ruthlessly targeted. Unfair trials and smear campaigns remain commonplace.
"LGBTI people have been arrested, and even people fleeing the country have been harassed and pressured to return.
"Fans, players and backroom staff can help prevent Azerbaijan's likely attempt to sportswash its image by informing themselves about the human rights situation behind the glitzy facade of Wednesday's match.
"All too often, governments are using high-profile sporting competitions to distract attention from repressive policies and human rights violations, to instead project an image of openness. This couldn't be further from the truth with the current administration, and the Arsenal-Chelsea clash is just the latest reminder of this."
Intensified crackdown and silencing of dissent
Recent years have seen an intensified crackdown on freedom of expression in Azerbaijan. Mass arrests, a silencing of the media, non-governmental organisations (NGOs) and activists, and the manipulation of the country's legal system are all commonplace.
The country's grim human rights record includes:
Targeting the press
Following revelations of large-scale political corruption, independent news outlets have been blocked and their owners arrested. In January this year, the European Court of Human Rights ruled in favour of journalist Khadija Ismayilova who was subjected to a sex-tape smear campaign after investigating government corruption.
LGBTI arrests
LGBTI individuals have been arbitrarily arrested and ill-treated, with more than 100 individuals arrested in September 2017 accused of "resisting police's legitimate orders". Suspicious deaths in custody have still not been effectively investigated.
Clampdown on NGOs and critics
Draconian laws and regulations on NGOs have made it almost impossible for independent groups to carry out their work.
Critics of the government face politically-motivated prosecution and imprisonment following unfair trials. Azerbaijani human rights defenders say that more than 150 people are in prison on politically-motivated charges, and the number of such cases continues to grow. The government has also intensified its clampdown on critics who flee the country, and has harassed their families and unlawfully transferred many of them back to Azerbaijan.
Unfair trials
Unfair trials are commonplace, particularly in politically-motivated proceedings, during which suspects are often detained and charged without access to a lawyer of their choice. Torture and ill-treatment in custody is also common, with police using torture to extract forced confessions which are then often used by judges as incriminating evidence. Changes to the legal system have seen a reduction in the number of lawyers willing to take politically sensitive cases.