Australia: Conditions in Nauru detention centre 'amount to torture'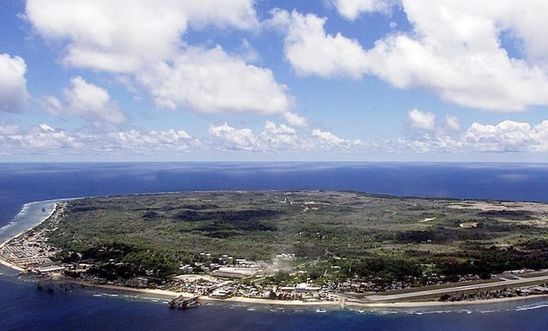 'The Australian government's policy is the exact opposite of what countries should be pursuing' - Anna Neistat
The Nauruan authorities have even arrested asylum-seekers for self-harm, leading to their imprisonment in a "prison within a prison"
The Australian government is subjecting refugees and asylum-seekers to a cruel system of abuse, flouting international law, in conditions which amount to torture, Amnesty International said today (17 October) as it published a new report on the detention centre.
The 64-page report, 'Island of Despair,' exposes Australia's deliberate and systematic regime of neglect and cruelty. The report highlights cases of asylum seekers self-harming, or attempting to take their own lives. The Nauruan authorities have even arrested asylum-seekers and refugees for self-harm, the report records, leading to their imprisonment in a "prison within a prison".
Anna Neistat, Amnesty's Senior Director of Research, who managed to enter the remote and secretive island to investigate human rights abuses, said:

"On Nauru, the Australian government runs an open-air prison designed to inflict as much suffering as necessary to stop some of the world's most vulnerable people from trying to find safety in Australia.

"The government of Australia has isolated vulnerable women, men and children in a remote place which they cannot leave, with the specific intention that these people should suffer. And suffer they have – it has been devastating and in some cases, irreparable.

"It's a vicious trap. People in anguish attempt to end their own lives to escape it, but then find themselves behind bars, hurled into a prison within a prison.

"The Australian government's policy is the exact opposite of what countries should be pursuing. It is a model that minimises protection and maximises harm."
Australia has spent billions of pounds to create and maintain its inherently abusive offshore processing system. According to the Australian National Audit Office, offshore processing on Nauru and Manus Island in Papua New Guinea has cost more than £350,000 per person, per year. Much of this money has been spent on companies contracted to work on Nauru, many of whom have announced they will cease their operations on the island. Individual staff from some companies have become whistle-blowers, even under the threat of criminal prosecution for exposing the desperate situation on Nauru.
Amnesty found that the conditions to which refugees and asylum-seekers on Nauru are subjected, amount to torture. The combination of refugees' severe mental anguish, the intentionally harmful nature of the system, and the fact that the goal of offshore processing is to intimidate or coerce others to achieve a specific outcome, means that Australia's offshore "processing" regime fits the definition of torture under international law.
Allowing people's mental health to deteriorate without any adequate treatment appears to be a deliberate part of the government of Australia's deterrence policy, Amnesty researchers found. Almost all of the people Amnesty spoke to – including young children – suffered from poor mental health. Prolonged periods of indefinite detention had a direct and negative effect on people's mental health, according to the Royal Australian & New Zealand College of Psychiatrists.
One man told Amnesty that he had tried to kill himself twice in the previous ten weeks: once in May 2016 when he bought petrol and poured it on himself, and a second time in July 2016 when he drank washing-up liquid and had to be hospitalised. An Iranian refugee has tried to kill herself many times, sometimes two or more times a week. Eventually she set the family dwelling on fire, and is now confined to a medical ward in a Refugee Processing Centre.
Another man described how his pregnant wife tried to hang herself – he found her in the bathroom with rope marks on her neck. A family with a young daughter spent 18 months in a tent during which time the child developed symptoms of distress and poor health. Her father told Amnesty International how she vomited, wet her bed every night, and would wake up screaming. Another man described how his wife started having mental health problems after they arrived on Nauru. A week after their daughter was born, she witnessed a young Iranian man set himself on fire, and lost her breastmilk. She has barely talked or left her home since.
Although Australia does not want the full extent of the abuses on Nauru to be known, and has gone to extraordinary lengths to hide it, the "success" of its border control policy depends on the human suffering being known about worldwide, as a deterrent.
One of the interviewees quoted in the report, Hassan, an Afghan refugee on Nauru, told Amnesty:
"When [Australia's former Immigration] Minister Morrison came here […], he was just pointing his finger at us, saying, 'Don't ask questions, just listen – call to your country, call to your village, and just tell them not to come to Australia, Australia is closed!' Then I realised we were not in processing – we were hostages."
The Australian Prime Minister, Malcolm Turnbull, has said that the government of Australia must ensure its offshore "processing" regime is harsh. As Communications Minister, in May 2014, he stated: "We have harsh measures (and) some would say cruel measures … [but] the fact is if you want to stop the people-smuggling business you have to be very, very tough." In September 2015, while admitting his concern over the conditions on Nauru, Mr Turnbull stated: "Now, I know that's tough, we do have a tough border protection policy, you could say it's a harsh policy, but it has worked."
The report's findings are based on months of research, including interviews with more than 100 people. Anna Neistat, one of the few human rights researchers to have gained access to Nauru, is available for interview.
Downloads