Arrest of Northern Ireland reporters 'sends chilling message to investigative journalists'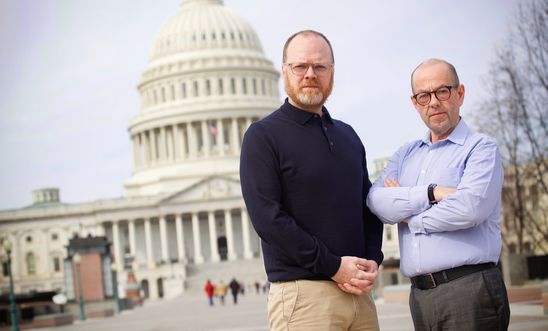 Trevor Birney and Barry McCaffrey will give a speech at Amnesty's Media Awards ceremony in London this evening  
"This was a deliberate decision designed to protect state secrets and send a chilling message to investigative journalists" - Trevor Birney
Two journalists from Northern Ireland, who have been arrested in connection with a documentary film exposing police collusion in a 1994 massacre, will issue a warning that press freedom in the UK is at risk in a speech this evening (3 April).
Addressing the Amnesty International UK Media Awards audience, Trevor Birney and Barry McCaffrey are expected to warn that their arrest was "a deliberate decision designed to protect state secrets and send a chilling message to investigative journalists".
Barry McCaffrey said:
"This is a very dangerous time for press freedom around the world. What does it say about a state when it protects killers and arrests journalists? This is what is happening in the UK today.

"Press freedom is a human right. It's a principle that has to be protected at all costs. This is a battle that human rights defenders cannot afford to lose. Make no mistake, every journalist and their ability to hold government to account is under threat."
Trevor Birney said:
"None of the paramilitaries who shot dead six men and injured five others in June 1994 have ever been charged or convicted. Today the case is still demanding significant police resources. 

"However, rather than pursuing those who carried out the massacre, detectives have been directed to go after us - the journalists who exposed the story of the collusion between police and the killers. This was a deliberate decision designed to protect state secrets and send a chilling message to investigative journalists."
Patrick Corrigan, Amnesty International's Northern Ireland Programme Director, said:
"Amnesty is deeply concerned at the arrests of two of the most widely-respected journalists in Northern Ireland, and the seizure of documents and computer equipment.

"The arrest of has sent a shiver of fear through media across Northern Ireland and we are in no doubt that press freedom is now at grave risk."
Arrested and questioned
Trevor Birney and Barry McCaffrey were arrested on 31 August 2018 in connection with an alleged breach of the Official Secrets Act, relating to confidential documents about the police investigation of the murder of six men in a bar in the village of Loughinisland, County Down, in 1994.
A 2016 report from the Police Ombudsman for Northern Ireland found that there had been collusion between the Royal Ulster Constabulary and the Ulster Volunteer Force killers, and that the subsequent police investigation had been undermined by a desire to protect those responsible for the massacre.
The 2017 film, 'No Stone Unturned' – directed by Oscar-winning film-maker Alex Gibney – explored the unsolved killings and police investigation in detail, and named one of the alleged killers.
In August last year, it is estimated that up to 100 police officers from the Police Service of Northern Ireland and Durham Constabulary raided the journalists' homes and offices, seizing documents and computers, which the men are fighting to have returned.