Amnesty Scotland launches Rights Referendum campaign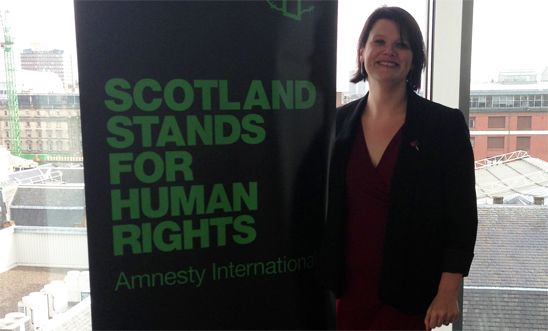 Amnesty Scotland Director Siobhan O'Reardon at the campaign launch this morning © Amnesty International
The referendum on Scotland's independence on 18 September 2014 is a unique opportunity for everyone in Scotland to decide what sort of society we want to live in.
Today, Amnesty International launches its campaign – The Rights Referendum – calling on politicians, civil society, and people throughout Scotland to debate our aspirations and how we ensure that understanding and protecting our human rights is central to whatever path we choose.  
Whilst the independence debate has, to date, focussed on economic and financial issues, inextricably linked to these, and all areas of our lives, are human rights – the fundamental entitlements and freedoms which belong to each and every one of us.
Protecting and promoting human rights – both at home and abroad – is key to building a better future, whatever the outcome of the vote on independence.
Siobhan Reardon, Amnesty Scotland's Programme Director, said:
"The current debate around Scotland's constitutional future is unprecedented, and this is the time for us to ensure the rights of all people are understood, recognised and protected after this historic vote has taken place.

"The Scottish Government's White Paper talks of how an independent state could protect human rights, but makes no promises. The UK Government has limited itself to a legal analysis of what independence would mean in terms of human rights treaties. We want to challenge politicians to make some definitive statements about how human rights will be respected, regardless of the outcome of the vote. We also want the people of Scotland to ask all politicians and campaigners involved in the debate how will human rights be promoted and safeguarded whatever happens come 18 September."
Amnesty International does not take a position on whether Scotland should vote yes or no to independence. Our objective is to ensure that human rights are central to the debate on Scotland's constitutional future.