Amnesty publishing new edition of its 'Fair Trial Manual'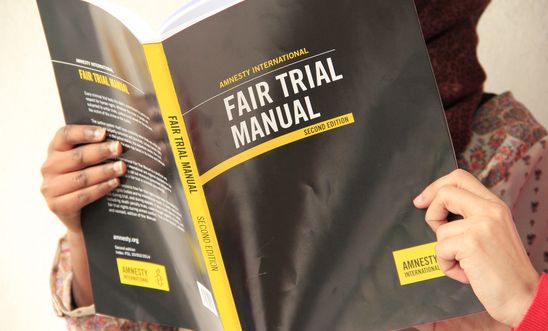 Former Director of Public Prosecutions Keir Starmer and renowned lawyer Gareth Peirce to speak at launch event
'The Fair Trial Manual is essential reading for anyone having to battle against injustice' - Michael Bochenek 
Amnesty International is today (9 April) publishing a new edition of its Fair Trial Manual, a practical guide to the internationally-agreed standards for fair criminal proceedings.
The publication - a vital resource for lawyers, defendants and the judiciary in the fight against unfair trials and injustice - is a second edition of the Fair Trial Manual which was first published in 1998, principally to support Amnesty staff and members. However, it was so enthusiastically received around the world that it was soon in large demand and published in 15 languages. 
Political prisoners have themselves used the Fair Trial Manual to represent themselves in court - as a "DIY defence guide". For example, Albin Kurti, former political prisoner and leader of the Self-Determination! party, was arrested in Kosovo in 2007 during a peaceful protest, spending five months in prison and another five months under house arrest. With the Manual as a guide, he was able to secure his own release. He said:
"Amnesty's Fair Trial Manual … helped me to identify the political character of my trial … as well as teaching me how to defend myself. The Fair Trial Manual helped me to reveal and resist the injustice of my trial.
The Manual's second edition, published by popular demand, reflects the significant changes to the global legal and political context since the first edition. Many new standards have been adopted - for example, on women deprived of their liberty and the right to access legal aid. It also reflects the growing recognition that fairness includes regard for the rights of victims and that many fair trial rights apply at all times and in all circumstances, even during states of emergency and armed conflicts.  The Manual includes dedicated chapters on death penalty cases, trials in armed conflict and the fair trial rights of children. 
The Manual is likely to be used by a wide range of people assessing the fairness of an individual criminal case or criminal justice system, including:
*lawyers and judges acting in criminal proceedings
*trial observers, legislators and human rights educators 
*human rights monitors working to assist efforts to re-establish the rule of law or working in complex post-conflict situations
Amnesty International Senior Director of International Law and Policy Michael Bochenek said:
 

"The Fair Trial Manual is essential reading for anyone having to battle against injustice.

 

"It provides practical guidance on which corners prosecutors must never try to cut. In extreme cases, it can also help to expose politically-motivated show trials for what they really are. Even in the most oppressive states, where the judiciary is little more than a puppet for political masters, highlighting abuses can and does achieve results."
Endorsements
Endorsements for the first and second editions of the Fair Trial Manual include:
"It is a must for anyone involved in examining how well a criminal trial or criminal justice system meets international standards of fairness. Frankly it is an invaluable toolbox for any criminal lawyer in practice, from beginner to seasoned professional … I intend to keep my Manual by my side" - Keir Starmer, QC, former Director of Public Prosecutions 
"When I found the Fair Trial Manual, I felt like I had struck gold. It explains the multitude of legal standards in a comprehensive, straightforward and accessible way" - Dr Vivienne O'Connor, US Institute of Peace
"This is an important reference guide for me and my fellow judges" - Mohamed Tarawneh, Supreme Court Judge, Jordan
"I have little doubt that this revised Manual will be extensively used by human rights practitioners and activists in their day-to-day work" - Kishali Pinto-Jayawardena, human rights lawyer and senior legal analyst, Sri Lanka    
Notes to editors
The Fair Trial Manual is being launched at a panel discussion event at Amnesty's International Secretariat (Conference Room, Peter Benenson House, 1 Easton Street, London WC1X 0DW), 7.00-8.30pm on Wednesday 9 April. Speakers will include:
Keir Starmer, human rights lawyer and former Director of Public Prosecutions, now focusing on international work
Gareth Peirce, human rights lawyer
David Marshall, Chief of the Global Issues Section of the New York Office, UN Office of the High Commissioner for Human Rights
The Manual will initially be available in six languages: Arabic, Chinese, English, French, Russian and Spanish.