Amnesty publishes major global guide to curb excessive police force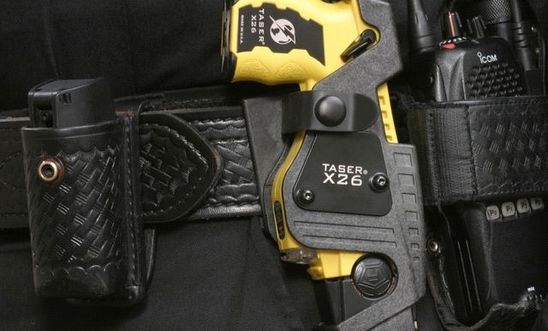 UK police have become heavily reliant on potentially lethal Tasers © Oleg Volk www.olegvolk.net
Police use of force 'must never be seen as a licence to kill' - Dr Anja Bienert
'Almost by stealth, British policing has become heavily Taser-dependent' - Oliver Sprague
Amnesty has launched a major publication designed to curb excessive police force around the world. 
The 206-page publication - Use of Force: Guidelines for Implementation of the UN Basic Principles on the Use of Force and Firearms by law enforcement officials - mark the 25th anniversary of the adoption of the UN Basic Principles in 1990. 
The Basic Principles are regarded as the key instrument for countries to ensure compliance with their obligations for policing operations to uphold the right to life and physical integrity. 
Amnesty's publication draws on examples of national laws, internal regulations and training documents from 58 countries around the world, providing detailed conclusions and recommendations to support governments in implementing the UN Basic Principles on policing and ensure good, effective, human rights-compliant policing. 
The underlying principle of the international standards for police is not to use force unless it is absolutely necessary. In many countries, police resort to the use of force and firearms in an arbitrary, excessive or otherwise unlawful manner.
In all regions of the world there are examples where deaths and serious injuries have resulted from police use of force and firearms. In recent years these include killings by police in Brazil (killings which have impacted disproportionately on young black men),        numerous police shootings in the USA resulting in the death of unarmed people (likewise with a disproportionate impact on African-American men), special police forces carrying out heavy-handed police operations with lethal force resulting in the death of many people in Bangladesh, and the use of tear gas, rubber bullets and sometimes firearms during public assemblies in numerous countries - including in Bahrain, Burundi, Cambodia, Greece, Spain, Turkey, Venezuela and Ukraine.
Amnesty is calling on governments to use its report to help to address deficiencies and to bring national law and implementation in line with the UN Basic Principles. 
The report's author, Dr Anja Bienert, of Amnesty International Netherlands' Police and Human Rights Programme, said:
"Nobody is disputing that police have a challenging, and often even dangerous, duty to perform. But governments and law enforcement authorities frequently fail to create a framework to ensure that police only use force lawfully, in compliance with human rights and as a last resort.  

"All too often, in many countries around the world, people are killed or seriously injured when police use force in violation of international standards or existing national laws. 

"These new Guidelines aim to close that gap and provide legal and practical measures which states can and must take to ensure police use of force is not excessive, abusive, arbitrary or otherwise unlawful."
UK police use of Tasers
Since Taser electro-shock weapons were introduced into British policing in 2004, there has been concern over the lack of training given to police officers in their use, over the lack of detailed official information about the circumstances of their use, over the greatly increased incidence of Taser use, and the dangers posed to the public by police regularly using Taser weapons. 
There are known risks when using Tasers against children, the elderly, people with underlying medical conditions such as heart conditions, mental illness or those under the influence of drugs and alcohol. In July, a jury ruled that a Taser had "materially contributed" to the death of 23-year-old man from Manchester called Jordon Begley, who died after being hit by a police Taser in 2013.  
Meanwhile, recent Home Office figures show that Tasers were used more than 10,062 times during 2014. Amnesty has repeatedly criticised the Home Office for its failure to provide a detailed breakdown over the full circumstances of when police officers are using Tasers. 
Amnesty International UK's Arms Programme Director Oliver Sprague said: 
"Almost by stealth, British policing has become heavily Taser-dependent. 

"Everyone who cares about the safety of the public and the reputation of British policing ought to be concerned by the sight of potentially lethal Tasers on the hips of police officers who've received very little training in their use.  

"We're not against Tasers if used by specially-trained police officers trying to prevent a death or a serious injury, but we don't know the circumstances in which people in the UK are being fired at with these potentially lethal weapons.

"We need major reform of the UK police's use of Taser weapons."
Launch event
Amnesty is launching its Guidelines publication at an event in London (Amnesty International's International Secretariat, 1 Easton St, London WC1X 0DW) on 7 September which will feature a number of policing experts, including:
Dr Andrey Antonov, Executive Officer, Human Rights Advisory Panel - United Nations Interim Administration Mission in Kosovo, former Police Captain (Russia) 
Andre Konze, Police Colonel (Germany), former Programme Manager of the Police and Human Rights Programme of the Council of Europe 
Jan Swaan, Chief of Amsterdam Peace-Unit (Dialogue Police), former Chief Operational Affairs 
Renata Neder, Human Rights Advisor, Amnesty International Brazil 
Justin Mazzola, Researcher, Amnesty International USA 
Dr Anja Bienert, co-author of the Guidelines, Police and Human Rights Programme, Amnesty International Netherlands