Algeria: pre-election clampdown exposes 'gaping holes' in human rights record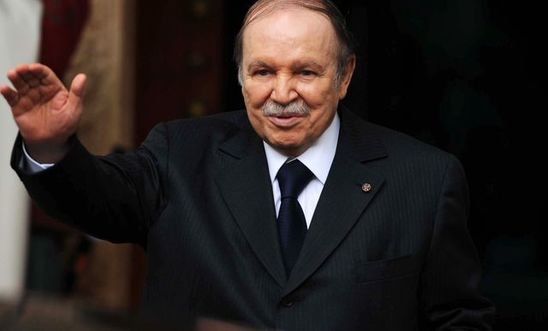 Algeria's president Abdelaziz Bouteflika is running for re-election this month © AFP/Farouk Batiche
Authorities accused of 'tightening their stranglehold on freedom of expression' ahead of Thursday's presidential election
Amnesty International has criticised Algeria's clampdown on free expression ahead of elections in the country later this week. 
With Algeria's veteran president Abdelaziz Bouteflika controversially seeking a fourth term in Thursday's presidential election, Amnesty has today published a new briefing showing how the authorities have sought to silence critics and quash social unrest ahead of the vote. 
Several foreign journalists have yet to be granted visas to cover the elections and international human rights groups such as Amnesty have been withheld visas to the country for years. 
Amnesty's briefing shows how the Algerian authorities have been targeting those - including journalists - who have strayed from the official, pro-Bouteflika narrative. In one harrowing recent example, the wife of a journalist who had covered opposition protests was assaulted by three individuals in plain clothes believed to be members of the security forces. They reportedly threatened her at gunpoint and demanded that her husband stop criticising the authorities on Facebook, before scalding her with hot water. 
Meanwhile, last month the security forces raided Al-Atlas TV, a private TV station which had criticised the authorities in its broadcasts. It was shut down and forced off air on 12 March. Under current Algerian laws, only state-sanctioned media are fully licensed, with private channels granted temporary licences that can be revoked with little warning. 
Amnesty International's Senior Director of Research Nicola Duckworth said:
"There appears to be a concerted effort by the Algerian authorities to seize control of the narrative in the run-up to the elections by tightening their stranglehold on freedom of expression. 

 

"Attacking a private television station simply because it dared to broadcast a different view is a reprehensible attack on freedom of expression.

 

"Safeguards against torture in Algerian law are currently woefully inadequate. This is compounded by a dire record of impunity when it comes to violations by the state, a tragic legacy of the country's bloody internal conflict.

 

"Despite repeated promises of reforms, these gaping holes in Algeria's human rights record persist, even in areas trumpeted by the authorities as successes. Discrimination and violence against women remain rife."
Protests dispersed
In 2011 a state of emergency was lifted in Algeria, yet restrictions are still being imposed on freedom of expression, association and assembly. Although Algeria is an oil-rich country, social and economic unrest fuelled by corruption, the rising cost of living, high unemployment and lack of access to housing has continued, with the Algerian authorities often responding to protests by forcibly dispersing them, as well as harassing and arresting demonstrators and trade union activists. Despite a ban on demonstrations in Algiers, following an initial crackdown in early March the authorities have not forcibly dispersed peaceful protests in the capital, those these have been held under heavy security.
Regulation of associations
A 2012 law placed restrictions on those wishing to register an independent organisation and tightened regulations on foreign funding under the guise of protecting national values or morality. A number of associations that have been critical of government policy - including those seeking to combat corruption and sexual violence, or those demanding truth and justice about enforced disappearances - have yet to be registered. Amnesty International Algeria, which has been legally registered in Algeria since 1991, was recently denied the necessary authorisation to organise its annual general assembly. 
Counter-terrorism abuses
The hostage crisis at Algeria's Amenas gas plant in January 2013 - in which more than 40 workers and 29 hostage-takers were killed - put a spotlight on the security threats faced by Algeria as well as the abysmal record of its security forces. Algeria's security forces have committed grave abuses - including torture, enforced disappearance, extrajudicial executions and secret detention - in the name of fighting terrorism. However this track record has been disregarded in security cooperation with the USA, France and the UK. In addition, a series of amnesty measures granting immunity to perpetrators of a catalogue of appalling abuses from Algeria's past have only served to entrench impunity.
Women's rights
Wide reforms are also still needed to end discrimination and violence against women and to address migrants' rights. Other challenges include shortcomings in laws that facilitate torture and ill-treatment, and fail to adequately protect women from gender-based violence as well as prevailing impunity for past abuses.  
Downloads