Aleppo: residents fear vengeful government forces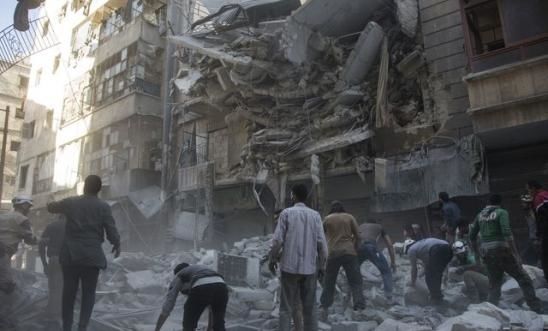 East Aleppo's hundreds of thousands of residents are increasingly fearful © Karam al-Masri/AFP/Getty Images
Amnesty warns of Syrian government's 'long and dark history' of mass detention and disappearances 
Syrian government forces who have captured parts of eastern Aleppo city in recent days must ensure that civilians living in these areas are allowed to move freely and are protected from revenge attacks including arbitrary detention, torture and enforced disappearance, said Amnesty International today. 
Yesterday Syrian government forces took control of two neighborhoods in eastern Aleppo - Jabal Badro and Maskaen Hanano - where at least 100 families are currently living. Many who remain in eastern Aleppo told Amnesty that they fear acts of revenge by government forces. 
As Syrian government forces tighten the stranglehold around eastern Aleppo the siege in that part of the city is also expected to intensify with devastating consequences for civilians. 
Fadi, a local activist, told Amnesty that people living in Masaken Hanano and Jabal Badro were not able to flee when the government advanced and are now too terrified to leave their homes. He said:
 

"I know some of the families and they told me that they are now in their homes and afraid to move around because Syrian government soldiers are everywhere."
Another activist told Amnesty that government forces took some male residents of Masaken Hanano to al-Nairab airport for interrogation and screening. Amnesty could not verify these reports. 
Meanwhile, residents of Sheikh Maqsoud - a district of Aleppo controlled by Kurdish People's Protection Unit (YPG) fighters - told Amnesty that up to 8,000 people from eastern Aleppo had also fled there over the past week as the fighting and air strikes intensified. Civilians have no means of leaving from Sheikh Maqsoud without passing through western Aleppo, which is under Syrian government control. Many are too afraid to leave the area for fear of facing retaliation from government forces if they leave. One man who fled with his family to Sheikh Maqsoud described the desperate situation: 
"I arrived with my brother and our families few days ago. We took a risk and did not know if the YPG will allow us to cross but we couldn't bear the feeling of hunger and sound of warplanes all days long so we decided to leave … All types of food were scarce and as a result very expensive. At the end of each day I was grateful for still being alive from the air strikes and ground shelling. But we can't live like that anymore."
Samah Hadid, Deputy Director for Campaigns at Amnesty International's Beirut office, said:
 

"Given the Syrian government's long and dark history of arbitrary detention and enforced disappearances on a mass scale, it is even more crucial that civilians are protected in newly captured areas of Aleppo city.

 

"The Syrian government must not arbitrarily restrict the movement of civilians and they must allow civilians who wish to leave the area freedom to do so without threat or constraint."