Aleppo: reports of execution-style killings point to war crimes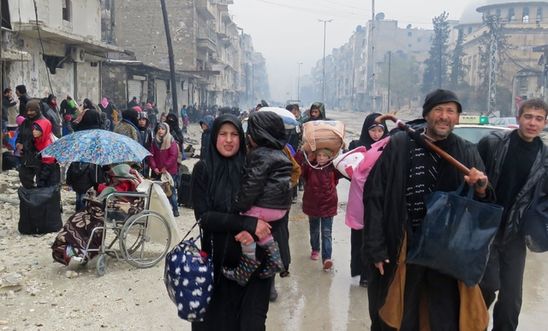 Civilians fleeing fighting in Aleppo earlier today © Stringer/AFP/Getty Images
Urgent call for independent monitors to ensure civilian protection and humanitarian access for life-saving aid
World has looked on as Aleppo has been 'transformed into a mass grave' - Lynn Maalouf
Shocking reports from the United Nations that scores of civilians have been extrajudicially executed by advancing Syrian government forces in eastern Aleppo point to apparent war crimes, said Amnesty International. Amnesty is making an urgent plea for all parties to the conflict to protect the civilian population.
The UN human rights office said it had reliable evidence that up to 82 civilians were shot on the spot by government and allied forces who entered their homes, or at gunpoint in the streets, over the past few hours.  
Lynn Maalouf, Research Deputy Director at Amnesty International's Beirut office, said: 
"The reports that civilians - including children - are being massacred in cold blood in their homes by Syrian government forces are deeply shocking but not unexpected, given their conduct to date. Such extrajudicial executions would amount to war crimes.

 

"Throughout the conflict Syrian government forces, backed by Russia, have repeatedly displayed a callous disregard for international humanitarian law and utter disdain for the fate of civilians. In fact, they have regularly targeted civilians as a strategy, both during military operations and through the mass-scale use of arbitrary detention, disappearances and torture and other ill-treatment. 

 

"As government forces gain full control of eastern Aleppo the risk that they will commit further atrocities raises grave fears for thousands of civilians still trapped.

 

"In recent months the world, including the UN Security Council, has watched from the side-lines as civilians have been slaughtered on a daily basis and eastern Aleppo has been flattened and transformed into a mass grave. The global inaction in the face of such inhumanity is shameful. The lack of accountability for war crimes and crimes against humanity has allowed the parties, particularly government forces, to commit such crimes on a mass scale.

 

"It is now crucial that independent monitors are deployed to ensure that the civilian population is protected and that humanitarian access is granted so that life-saving aid can reach all those in need."
At present those injured cannot be evacuated and those trying to flee are risking their lives. Amnesty is calling for all parties to the conflict to allow civilians wishing to flee the fighting to be granted safe passage to leave the area. As government forces advanced in recent weeks, civilians in eastern Aleppo told Amnesty they feared revenge attacks. Last week the UN reported that hundreds of men and boys went missing from government-controlled areas. 
Lynn Maalouf added:
 

"Amnesty International has previously highlighted the Syrian government's widespread and systematic use of enforced disappearance to attack the civilian population in what has amounted to crimes against humanity. It is crucial that independent monitors are deployed to prevent further enforced disappearances, torture and other ill-treatment."