Alan Duncan's remarks on Turkey arrests welcome, now UK must join call for release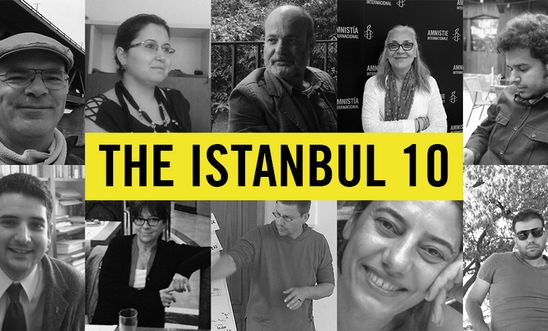 The ten activists are all being investigated for supposed links to terrorism © Amnesty International
'Istanbul 10' are being investigated on supposed terrorism grounds as crackdown continues
'We need to see the UK publicly calling for the release of Idil Eser, Amnesty International Turkey Director, and those detained alongside her' - Kate Allen
Responding to a statement today from the Minister for Europe Sir Alan Duncan in which he expresses "concern" over the recent detention of the director of Amnesty International Turkey - Idil Eser - and several other human rights activists, Kate Allen, Amnesty International UK's Director, said:
"Sir Alan's statement is welcome alongside Prime Minister Theresa May and Foreign Secretary Boris Johnson's earlier private efforts. But this has not proven enough.

"The UK must publicly call for the release of Idil Eser and those detained alongside her, as have other governments including France, Germany and USA.

"President Erdoğan needs to hear a very clear and utterly unequivocal message from every capital in the world: that Turkey's crackdown on human rights activists, on teachers, on civil servants and others, is utterly indefensible and has to end."
Workshop raided
On the morning of 5 July, eight Turkish human rights activists, including Amnesty International Turkey's Director Idil Eser, were attending a workshop led by two international trainers. The workshop was taking place at a hotel on Büyükada, an island near Istanbul. Police arrived at the hotel around 10am and detained all 10 people. The fact of their detention was not known by anyone until that evening and only by chance, as none of those detained were able to or allowed to contact anyone. 
The 10 were first detained in police custody for seven days without being brought before a court. This was extended by a further seven days to 19 July. Their lawyers told Amnesty that the group are facing a criminal investigation on suspicion of assisting an "armed terrorist organization" without being members of it, an allegation that Amnesty has rejected as absurd and groundless.
In the early hours of Tuesday 18 July, Amnesty learned that four members of the group - Nalan Erkem, Nejat Taştan, Şeyhmus Özbekli and İlknur Üstün - were released on bail, but continue to be the subject of investigations. They have to report to the police three times a week and are subject to a ban on travel abroad. 
The remaining six, including Idil Eser, have been remanded in pre-trial custody on terrorism charges. They could remain imprisoned for months before a formal indictment is drawn up, detailing the charges levelled and the evidence held against them.
Amnesty Turkey chair also held
Meanwhile, Taner Kılıç, Amnesty International Turkey's Chair, was also detained on 6 June, on the basis of an order against him and 22 other lawyers in Izmir. Three days later, he was remanded in prison on the supposed grounds - again unfounded - of "membership of the Fethullah Gülen Terrorist Organisation". 
Amnesty International stands with human rights defenders worldwide and has been campaigning tirelessly for the Human Rights Defenders immediate and unconditional release, and has been involved with high level advocacy with governments around the world.