Al Jazeera verdicts are 'dark day' for media freedom in Egypt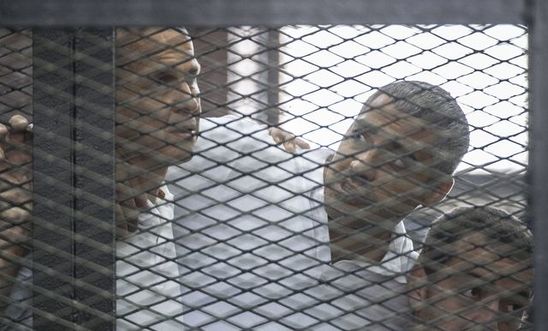 Peter Greste (L), Mohamed Fahmy (C) and Baher Mohamed (R) in the courtroom listening to the verdict earlier today © AFP/Getty Images
'Journalists are being locked up and branded criminals or 'terrorists' simply for doing their job' - Philip Luther
The conviction today of three Al Jazeera English journalists accused of "falsifying news" and belonging to or assisting the banned Muslim Brotherhood movement in Egypt is a "dark day" for media freedom in the country, said Amnesty International. 
The three journalists - Australian Peter Greste, Canadian-Egyptian Mohamed Fahmy and Egyptian Baher Mohamed, all considered by Amnesty to be prisoners of conscience - were sentenced to seven years in jail. Baher Mohamed received a further three years on a separate charge of possessing a bullet shell. They have been detained since 29 December 2013. 
Out of six others on trial alongside the Al Jazeera journalists, two were acquitted and four were sentenced to seven years. The court also sentenced a number of other journalists to ten-year sentences in absentia, including British journalists Sue Turton and Dominic Kane, and the Dutch journalist Rena Netjes. 
An Amnesty trial observer recorded examples of complete ineptitude during the proceedings, as well as several clear irregularities. In 12 court sessions, the prosecution failed to produce a single shred of solid evidence linking the journalists to a terrorism organisation or proving that they had "falsified" news footage. 
Prosecutors also obstructed the defendants' right to review and challenge the evidence presented against them, and the prosecution also appeared unprepared and disorganised, often presenting irrelevant evidence. Key witnesses for the prosecution also appeared to contradict their own written testimony, with technical experts admitting on cross-examination that they were unable to confirm their testimonies.
Amnesty International Middle East and North Africa Director Philip Luther said:
 

"This is a devastating verdict for the men and their families, and a dark day for media freedom in Egypt, when journalists are being locked up and branded criminals or 'terrorists' simply for doing their job.

 

"The only reason these three men are in jail is because the Egyptian authorities don't like what they have to say. They are prisoners of conscience and must be immediately and unconditionally released. 

 

"Instead of locking up journalists and others perceived to pose a threat, the authorities should focus their efforts on conducting credible investigations into abuses by the security forces."
Background
Twenty people were tried in the case, 11 in absentia. Those in court included five Egyptian students arrested on 31 December 2013 in Cairo and Nasr City. Nine of the defendants are Al Jazeera staff, according to the network. Dutch journalist Rena Netjes does not work for Al Jazeera and left Egypt after she discovered she would face trial. The remainder are Egyptians.
It's not just journalists who are at risk in Egypt. Thousands have been locked up over the past year as part of a sweeping crackdown on dissent, with mass death sentences handed down to supporters of former President Mohamed Morsi.