Afghanistan: Taliban's treatment of women and girls is crime against humanity - Major New Report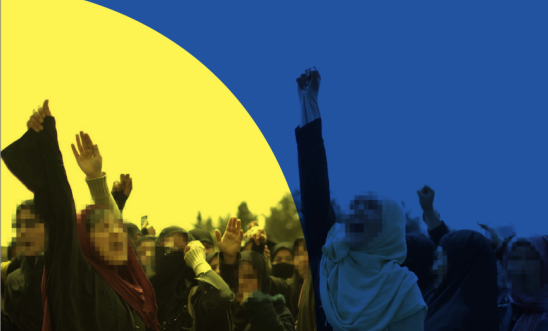 Taliban's treatment of women and girls should be considered a crime against humanity of 'gender persecution'
Report provides legal assessment of why those fleeing persecution must be presumptively considered refugees
'Women and girls from Afghanistan arriving in the UK are refugees, and this country must respect their right to asylum' - Sacha Deshmukh
'This is a war against women' - Agnès Callamard
The Taliban's severe restrictions and unlawful crackdown on women and girls' rights should be investigated as possible crimes under international law - including the crime against humanity of gender persecution - Amnesty International and the International Commission of Jurists said today (26 May) in a new report.
The 62-page report, 'The Taliban's war on women: The crime against humanity of gender persecution in Afghanistan', provides a detailed analysis of how the Taliban's draconian restrictions on the rights of Afghanistan's women and girls - together with the use of imprisonment, enforced disappearance, torture and other ill-treatment - could amount to the crime against humanity of gender persecution under the Rome Statute of the International Criminal Court.
Amnesty and the International Commission of Jurists say that prosecutors at the ICC should include the crime against humanity of gender persecution in their ongoing investigation into the situation in Afghanistan. The organisations are also calling on other countries to exercise universal jurisdiction or other lawful means to bring to justice Taliban members suspected of responsibility for crimes under international law.
The report covers the period from August 2021 to January 2023 and bases its analysis on a growing body of evidence collected by credible sources, including Amnesty's 2022 report Death in Slow Motion, civil society organisations and UN authorities. It also provides a legal assessment of why women and girls fleeing persecution in Afghanistan should be presumptively considered refugees in need of international protection.
The research complements the work of UN experts and women's rights groups to lay the foundation for the robust response needed to ensure justice, accountability and reparation for the crimes against humanity of gender persecution.
Agnès Callamard, Amnesty International's Secretary General, said:
"Afghan women and girls are the victims of a crime against humanity of gender persecution.

Since their takeover, the Taliban has imposed draconian restrictions on the rights of Afghanistan's women and girls.

"Let there be no doubt: this is a war against women - banned from public life; prevented from accessing education; prohibited from working; barred from moving freely; imprisoned, disappeared and tortured including for speaking against these policies and resisting the repression.

"These are international crimes. They are organised, widespread, systematic.

"The gravity of the crime demands a far more robust international response than has been seen to date. There is only one outcome acceptable: this system of gender oppression and persecution must be dismantled."
Santiago A Canton, the International Commission of Jurists' Secretary General, added:
"The Taliban's campaign of gender persecution is of such magnitude, gravity and systematic nature, that cumulatively the acts and policies form a system of repression which aims to subjugate and marginalise women and girls across the country.

"Our report indicates that this meets all the five criteria to qualify as a crime against humanity of gender persecution.

"Holding the Taliban criminally accountable and tackling rampant impunity for the serious crimes documented in this report is a necessary step toward securing justice for survivors of their egregious practices.

"We simply cannot afford to fail the women and girls of Afghanistan."
UK 'must change course'
In the UK, the joint report is published against a backdrop of racist immigration legislation going through parliament as well as diplomatic moves by the Government to make the obligation to extradite or prosecute those wanted for the most serious crimes under international law merely optional. The proposed new Mutual Legal Assistance treaty - being negotiated at the Ljubljana conference in Slovenia and due to end today (26 May) - would allow war crimes, crimes against humanity and genocide to go unpunished.
Sacha Deshmukh, Amnesty International UK's chief executive, said:
"This report serves as a clarion call to the UK government to fix serious shortcomings in the support it provides to women and girls fleeing persecution from Afghanistan and seeking justice.

"The UK likes to present itself as a champion of women's rights globally, but increasingly it is not. The immigration bill will only add to the misery of those fleeing persecution to seek safety on our shores. Women and girls from Afghanistan arriving in the UK are refugees, and this country must respect their right to seek asylum just as it expects other countries to do so.

"Just this week, the UK government has been trying to water down a new treaty aimed at strengthening international cooperation in bringing perpetrators of war crimes and crimes against humanity to justice.

"This wrongly signals to the world that justice and protection is only for a selected few and not a fundamental right for all.

"The UK still has the opportunity to change course with tangible actions that protect and promote the rights of women and girls - for those in need of safety here and those enduring unimaginable hardship in Afghanistan."
'Second-class citizens'
Since the Taliban's takeover in August 2021, women in Afghanistan have been excluded from political roles and most jobs in the public sector. Through a series of measures and announcements, women and girls have also been excluded from education beyond primary school.
The Taliban's dissolution of the institutional framework of support for survivors of gender-based violencehas further undermined the rights of Afghan women and girls on the basis of their gender.
Taliban decrees issued on 24 December 2022 and 4 April 2023 to ban women from working in NGOs and the UN provide further clear evidence of the Taliban's institutional gender discrimination. In addition, a requirement that women travel with a male chaperone ("mahram") for long-distance journeys, a decree stipulating that women should stay at home unless necessary, and the Taliban's strict dress code all violate women's freedom of movement and freedom to choose what to wear in public.
The discriminatory restrictions the Taliban have imposed on women and girls violate human rights guarantees contained in numerous international treaties to which Afghanistan is a party, including the International Covenant on Civil and Political Rights, the International Covenant on Economic, Social and Cultural Rights, the Convention on the Elimination of all Forms of Discrimination against Women, and the Convention on the Rights of the Child.
Afghan women and girls have been arbitrarily arrested and detained by Taliban members for so-called "moral crimes" as a result of infringing the authorities' discriminatory "mahram" restrictions and for their participation in peaceful demonstrations. Women who have protested against the Taliban's abusive and restrictive policies have faced excessive force, unlawful arrests, torture and other ill-treatment to ensure their compliance.
Amnesty and the International Commission of Jurists believe that the numerous incidents of arbitrary arrest and detention, torture and other ill-treatment inflicted on women and girls who either participated in peaceful protests or were accused of so-called "moral offences" should also be investigated as the possible crimes against humanity of imprisonment, enforced disappearance and torture under Article 7 of the Rome Statute.
The way forward
Amnesty and the International Commission of Jurists' report provides specific recommendations regarding how the international community must help dismantle the Taliban's system of gender persecution and the impunity which sustains it. An upcoming meeting on the situation of women and girls in Afghanistan at the forthcoming UN Human Rights Council is an important opportunity for states, civil society and independent experts to discuss the Taliban's gender persecution and other possible crimes under international law. The Human Rights Council must renew and strengthen the mandate of the UN Special Rapporteur on the situation of human rights in Afghanistan and  take urgent steps towards establishing an independent international accountability mechanism to investigate crimes under international law and other serious human rights violations, as well as to collect and preserve evidence of such violations with a view to supporting future accountability efforts, including prosecutions.