'We are a community radio, we are trying to address the issues that are having an impact for the communities. The fact that Amnesty also goes in that direction; it's an opportunity for us to build our capacity.'
President of Radio Salaki, Burkina Faso
Tradition is important in Labien, but in some cases, the village is not afraid to move with the times. In fact, it was one of the first communities in western Burkina Faso to commit to ending early and forced marriage and Female Genital Mutilation (FGM).
In Labien and elsewhere, radio has become one of the most powerful tools for raising awareness of human rights. Radio Salaki, a station supported by Amnesty International, has a wide audience for its broadcasts of educational programmes on girls' and women's rights. The radio's journalists also deliver training in remote rural communities about the dangers of early and forced marriage and FGM.
'Radio is the most accessible means of communication for our communities,' says Madame Clotilde Sawadogo, Director of Radio Salaki, which reaches two million people in western Burkina Faso. 'Because early and forced marriage and FGM are difficult subjects, we try to find creative ways to get communities to not turn away from these important issues. We have the radio and a theatre group – one for children and one for adults – and present these subjects in an entertaining and interesting way.'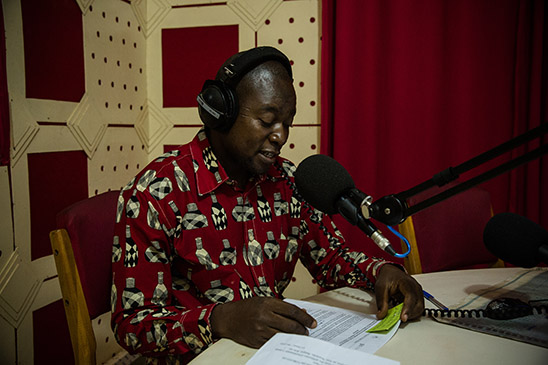 'Education is everything,' continues Madame Clotilde Sawadogo. 'When people have knowledge, they can develop their own initiatives, not only to deliver change, but also develop themselves. We have become the conscience of the community.'
The transformation has not gone unnoticed by the people of Labien and mothers speak with real optimism about their daughters' futures:
'FGM is behind us now. I was personally a victim of the practice. They did it when I was a child, and I couldn't refuse. My daughter is 10 years old. She's my only daughter because of FGM – I couldn't have other children. But this practice is behind us now. Now we can spare our children from such pain. We are affected, but this will not touch our children.'
Sali Kantiono, a mother from Labien
Radio is playing a vital role in reshaping attitudes and changing lives in Labien and many other communities. A huge thank you to everyone who supported our appeal to end FGM and early and forced marriage.
Find out more about our Human Rights Education projects in West Africa.