Chen Guangcheng and Christian Bale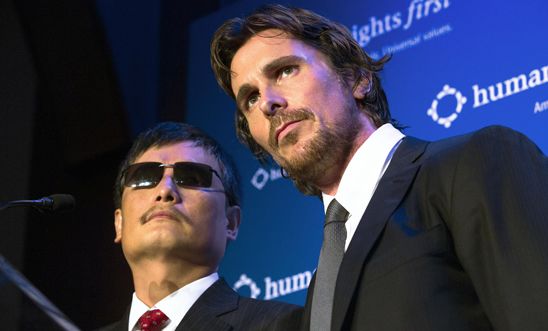 Chen Guangcheng and Christian Bale © AP
 
You're under house arrest in China. You've committed no crime. The authorities have invested over £400 million in keeping you there under 24/7 surveillance, they've filled your house with guards to make sure you can't leave or communicate with anyone in the outside world. What do you do? Oh – and you're also a recognisable face from the news – and you're blind.
If you're Chen Guangcheng, you carefully plan, and then execute, your escape with incredible bravery.
This is the miraculous experience of a Chinese lawyer who endured years of persecution from the Chinese authorities, who beat him, imprisoned him, and kept him under extreme house arrest.
This is Guangcheng's story, in his own words. It's voiced by the actor Christian Bale. And it's all true.
Listen to Chen Guangcheng's story
Add the feed directly to your favourte podcast app
Who is Chen Guangcheng?
Chen Guangcheng is a blind lawyer and activist, living in exile in the US - after a daring escape from authorities in China determined to silence him for exposing state-sponsored human rights abuses.
Known as 'the barefoot lawyer', Guangcheng defied the odds to stand up for human rights in the face of China's unsympathetic and rights-denying regime. After discovering the dark and violent truth about how China's 'one-child policy' was being enforced in Linyi province where he comes from, Guangcheng began to experience a campaign of abuse from authorities determined to stop him from speaking out.
Guangcheng persisted. He worked as a lawyer, representing the hundreds of thousands of people who had had their human rights brutally violated by officials trying to enforce policy He defended women against forced late-term abortions and forced sterilisation. He risked everything to stand up for what he believed in and paid the price – with assaults, imprisonment and house arrest.
Guangcheng made headlines in 2012 when he made a daring escape from house arrest and sought refuge in the American embassy in China.
Chen is one of the only Chinese dissidents to successfully escape the country to tell the tale of the persecution he faced from the secretive superpower.