Philippines: Arrest of 'most-wanted' General must break down wall of impunity for torturers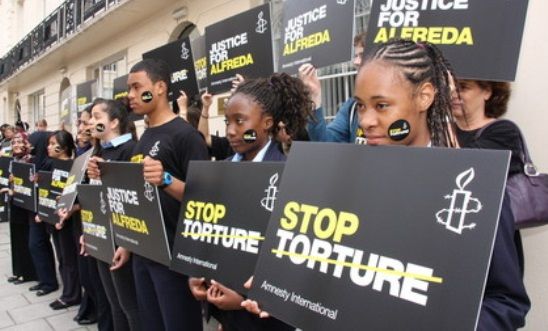 Young activists standing outside the Philippine Embassy in solidarity with victims of torture. © Amnesty International
The arrest of General Palparan, one of the most wanted generals accused of abductions and torture in the Philippines, sends an encouraging sign that Philippine authorities are finally tackling a culture of impunity for serious human rights violations by security forces.
Retired Major General Jovito Palparan was arrested on 12 August 2014 by the National Bureau of Investigation and members of the armed forces at around 3am in Manila.
He faces charges of kidnapping and the illegal detention of university students Karen Empeño and Sherlyn Cadapan in June 2006. A warrant for the arrest of Palparan and three other officers was issued back in December 2011. Lt. Col. Felipe Anotado, Jr. and S/Sgt. Edgardo Osorio have voluntarily surrendered to the authorities but M/Sgt. Rizal Hilario remains at large.
Often called Berdugo 'the executioner' or 'the butcher' General Palparan led a unit in the Central Luzon region of the Philippines which was notorious for human rights violations. Many activists and suspected supporters of the Communist Party of the Philippines were subjected to enforced disappearance, torture and extrajudicial execution.
'Today's arrest of one of the Philippines' most wanted alleged human rights violators must embolden the authorities to step up their efforts to bring to justice to military and law enforcement officials who have reportedly abused their power through involvement in torture, enforced disappearances and extrajudicial executions.

'It is appalling that so many officials allegedly involved in human rights violations remain at large. General Palparan's arrest brings hope that this is changing. He and others who are suspected of having committed human rights violations must be brought to justice in fair trials – the time has come to break down the wall of impunity, brick by brick.'
Rupert Abbott, Deputy Asia-Pacific Director at Amnesty
How widespread is the use of torture in the Philippines?
We have serious concerns about the widespread use of torture and ill-treatment by state security forces, including police officers in the Philippines.
The Philippines has an extensive legislative framework to stop torture and the government has pledged to increase its efforts to ensure these laws are implemented. The country is also party to key international anti-torture laws and mechanisms. But despite these measures a culture of impunity for torture by military and law enforcement agencies persists.
'Although it is rarely talked about, torture is endemic in the Philippines and is the country's dark, open secret. Even though banned in national law, and while the country has signed up to international treaties on ending torture, this has often amounted to little more than paper promises.'
Rupert Abbott, Deputy Asia-Pacific Director at Amnesty
Justice for torture victims
Justice is out of reach for the vast majority of torture victims, most are from disadvantaged backgrounds and live in poor urban areas. Perpetrators are hardly ever held to account.
In February 2006 Raymond Manalo and his brother Reynaldo were abducted from their home and held in secret detention for 18 months by men under General Palparan's command.
After managing to escape, Raymond accused his captors of torture in a case that reached the Philippines' Supreme Court. He also brought his case to the UN Committee against Torture.
In 2010 Raymond spoke to us about his experiences and meeting General Palparan in the detention camp.
We have been campaigning for the Philippine authorities to investigate all claims of torture and refer cases for public prosecution and to create a safe space for whistle blowers within the Philippine National Police to report torture allegations.
Tortured by police
Alfreda Disbarro has been imprisoned since October 2013 on the basis of a 'confession' obtained by police through torture.
She said that once police officers had got her inside their headquarters they pinned her to a wall, repeatedly punched her in her face and stomach, hit her with a club, poked their fingers into her eyes, slapped her, forced a mop into her mouth and banged her head against a wall. Then they beat her with a wooden stick and a metal bar.
The Philippines has laws to stop torture which the government has pledged their commitment to. Call for the Philippine authorities to investigate claims of torture of Alfreda.