Demanding marriage equality in Northern Ireland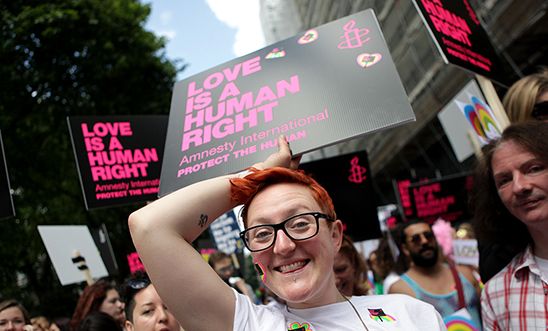 © Amnesty International
When it comes to gay rights, Northern Ireland has been left behind. It's the only part of the UK where same-sex couples are denied the right to a civil marriage.
We're campaigning for Northern Ireland to to ensure that same-sex couples are afforded an equal chance at civil marriage. The current laws in Northern Ireland preventing this are discriminatory; they belong in the past.
We've joined up with The Rainbow Project, Irish Congress of Trade Unions, Cara-Friend, HEReNI and NUS-USI to campaign for marriage equality in Northern Ireland. While we've won some decisive victories recently, marriage equality is not yet a reality in Northern Ireland.
2015: The first Assembly vote in favour of marriage equality
On 2 November 2015 the Northern Ireland Assembly held a vote on same-sex marriage. While it did not ultimately pass, for the first time a majority of Assembly members voted in favour of marriage equality.
53 Assembly Members voted for and 52 against a motion which called on the Northern Ireland Executive to introduce marriage equality legislation. The motion, however, was officially defeated as the Democratic Unionist party (DUP) lodged a 'petition on concern' which effectively blocked the successful vote.
"The vote is a significant milestone on the journey to marriage equality in Northern Ireland. It shows that, slowly but surely, politicians are catching up with public opinion here, which has been in favour of equal marriage for same-sex couples for some years."
Patrick Corrigan, Amnesty Northern Ireland Programme Director
Northern Ireland's marriage laws lag behind the rest of the UK
Same-sex marriage is legal in England, Scotland and Wales. Northern Ireland is now alone in banning same-sex couples from getting married, and the government also refuses to recognise such marriages conducted elsewhere.
Ultimately, this means that lesbian and gay couples in Northern Ireland are being discriminated against.
Public and politicians in favour of equality
As well as a recent historic vote in favour of equal marriage in the Assembly, there is overwhelming support among the population of Northern Ireland to extend civil marriage rights to same-sex couples.
An Ipsos MORI poll from July 2015 showed that 68% support same-sex marriage, with just 28% against. The support cuts across gender and creed, with clear majority support among both men and women, from both Catholic and Protestant community backgrounds and across all urban and rural areas of Northern Ireland.
What we're calling for
We want to see civil marriage equality - that is, access to civil marriage for any two people regardless of their gender.
Civil marriage is different and distinct from religious marriage: it is a state-recognised legal contract between spouses, via signing the civil marriage register. It takes place in a registry office or other non-religious venue.
Churches and other places of worship will be able to continue with religious ceremonies and will not be required to conduct wedding ceremonies for same-sex couples. These rights would be protected by law.
Allowing lesbian and gay people to get married will have no effect on anyone else's marriage. It is time for Northern Ireland's politicians to vote for equality for all citizens.