Minehead marks International Women's Day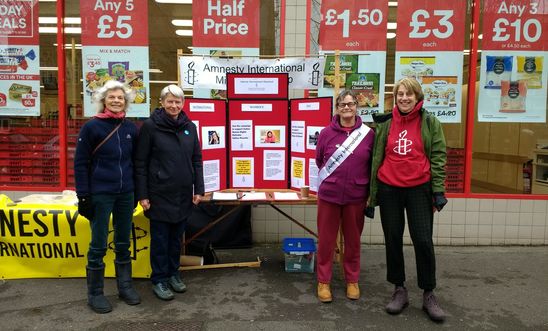 Amnesty stall on Minehead's main shopping street
On Friday 8 March, International Women's Day, the Minehead Group held their usual letter signing stall on the town's main shopping street. We were very lucky to have a break in the previously wet and windy weather, and the stall and contents stayed relatively dry and didn't fly off down the street. We collected approximately 100 signatures on each of three letters put together by Cherry Bird, AIUK's country coordinator for India & Nepal, and a member of our group. We also had a number of interesting and positive conversations with passers-by, and gave out general leaflets about Amnesty to those who wanted to know more.
The three cases featured in our letters were:
Salima Memcha who lives in Manippur State, India. Her husband was taken from their house and shot one night by security police, who tried to pretend he was a terrorist by dressing his body in combat fatigues. Salima was left with four young children and is campaigning for justice for the family and for other victim families. Instead she has received threats and intimidation.
Leila de Lima, Philippines. She is a human rights lawyer and senator. Leila has been critical of President Duterte and landed in prison, facing a life sentence for trumped-up politically motivated charges. She is continuing her human rights work from prison despite poor conditions.
Ciham Ali Ahmed has dual US/Eritrean nationality. At age 15, Ciham was arrested and imprisoned for trying to cross the border out of Eritrea into Sudan. Over five years later, she is still in jail in Eritrea without charge and her family do not know her whereabouts. Her father, who was Minister for Information, was also imprisoned and has since died.
View latest posts