"More in Common" - Our sponsored walk on Saturday 29 September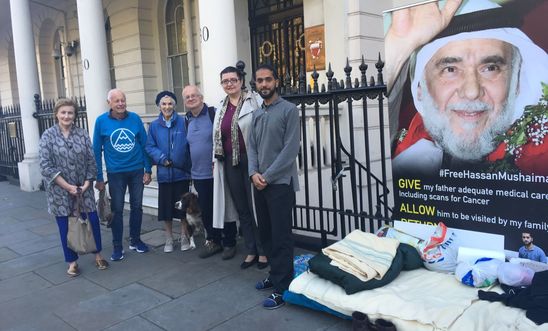 One of our Group's annual (almost) regular fundraising events is a "Better Together" walk across central London.
This year we started at St Peters Church in Eaton Square where Judith Richardson gave us a very Informative talk about the church's 190 year history: remarkably, the church had been burnt down (and rebuilt) twice. The first stop on our walk was to visit Ali Mushaima who has been camping outside the Bahraini Embassy, for several months, to  protest against the unjust Imprisonment and denial  in prison of basic rights - such as medical care and family visits -  of his father, Hassan Mushaima, by the authorities in Bahrain.
We carried on across Belgravia where we came across members of the  Amnesty Lambeth Group (and other London Groups)  on their annual "Embassy Crawl". The next stretch of our walk took us across Hyde Park and Kensington Gardens and we stopped at the New West End Synagogue, where we enjoyed a short but informative talk about this ornate Synagogue's 150 year history.
After this presentation, our Group agreed that lunch was in order and we stopped at small Lebanese cafe "Fresco" in Westbourne Grove.  Suitably refreshed,  we made good progress to our last venue, the Regents Park Mosque, where we arrived just in time to observe afternoon prayers.
We were warmly welcomed at all three lovely places of worship and had the opportunity to learn about the history and traditions of three faiths. 
Although not all the sponsorship monies have come in,  our estimate is that  this walk raised over £500 for our Group to support the work of  Amnesty International.
(RR)
View latest posts