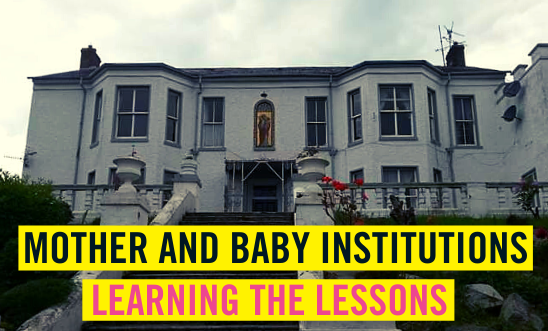 Time for truth and justice....
After a long campaign, survivors from Mother and Baby and Magdalene Laundry institutions now have the opportunity to co-design an inquiry into the human rights abuses they suffered.
Women in Northern Ireland have told Amnesty that they suffered arbitrary detention, forced labour, ill-treatment, and the removal and forced adoption of their babies – human rights violations.
Meanwhile, their babies were routinely branded as 'illegitimate' on birth, taken from their mothers as newborns -- some to be adopted without consent, while others were put into loveless institutions, only to face death by malnutrition and burial in mass graves.
Amnesty International is continuing its decade-long work with survivors to ensure truth and justice.
In March 2021, a six-month government-approved process of co-designing the inquiry began. The information and resources on this page should help survivors and other stakeholders to navigate this process and ensure a human rights compliant investigation is delivered.
Learning the Lessons
Following the publication of a report researching Mother and Baby institutions in Northern Ireland, survivors are being invited to co-design an inquiry into the issue. In a process that will last up to six months, the design and terms of reference of the investigation process will be agreed.
Amnesty International and Ulster University held a series of online events with experts and survivors to inform what this process should look like during March and April 2021. They are available to watch in full below. We have produced a summary report of the key lessons emerging from the events, available to download here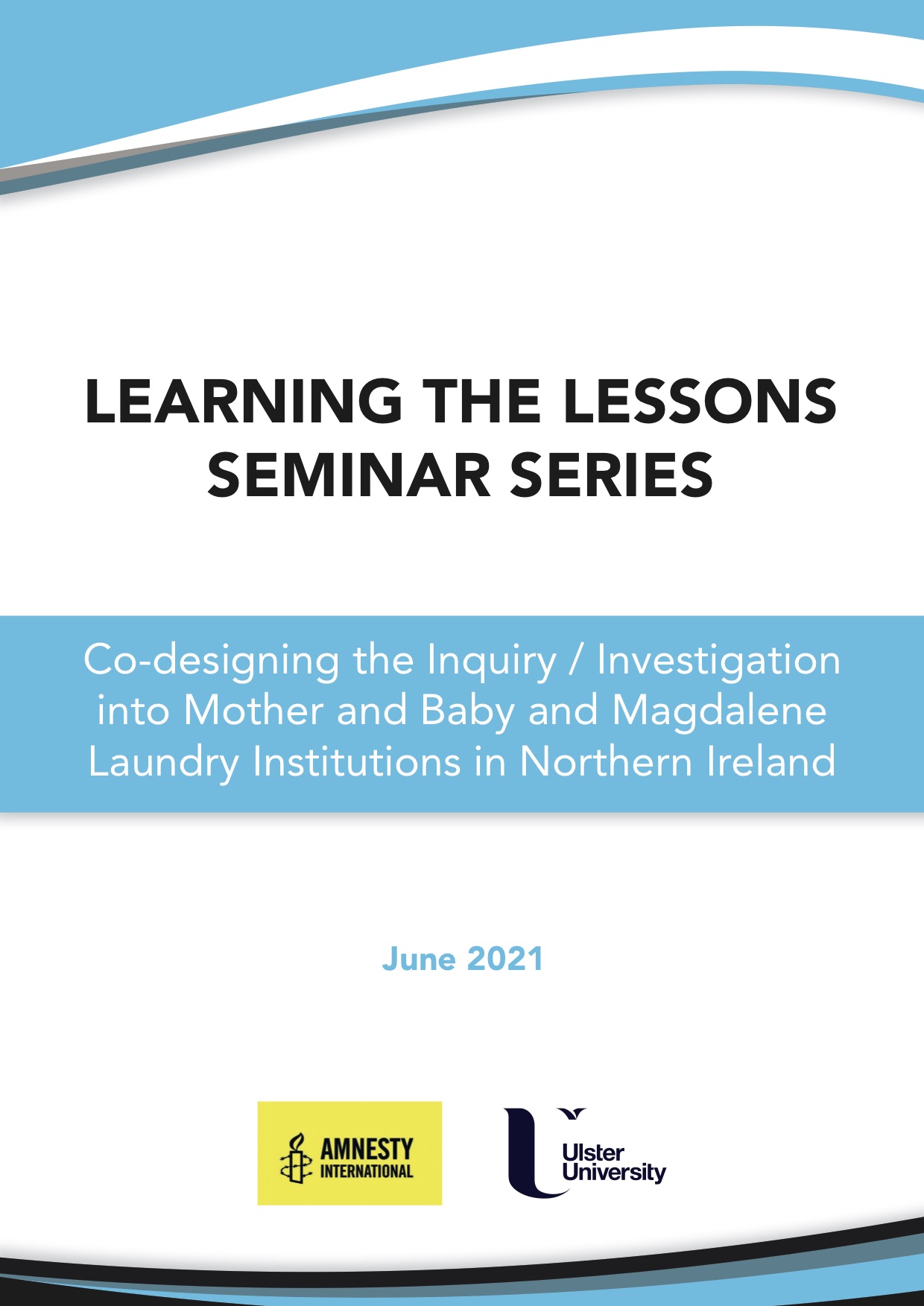 Learning the Lessons seminar series report
Panel Event 1 
Prof Patricia Lundy, Ulster University, founder of Panel of Experts on Redress (NI)  
Assessment of the Hart Inquiry, from the perspective of survivors  
Breeda Murphy, Activist on Mother and Baby Home issues and PRO of Tuam Mother and Baby Home Alliance Opportunity lost: from the perspective of survivors and those affected in Ireland  
Dr James Gallen, Dublin City University, expert on Mother and Baby Homes; Expert advisor to the Irish Department of Children and Youth Affairs  
Failing to centre survivors: An analysis of Ireland's Commission on Mother and Baby Homes.  
 
Chair: Patrick Corrigan, Amnesty International
Panel Event 2
Prof Kathleen Mahoney - Chief Negotiator - Assembly of First Nations, Residential School Settlement, major architect of Canada's Truth and Reconciliation Commission
Gerry McCann - Rosetta Trust, Survivor-Campaigner for Historical Institutional Abuse Inquiry
Conall Ó Fátharta  - Journalist and Lecturer, NUI Galway
Chair: Eunan Duffy - Adoptee, Activist, Advocate
Panel Event 3
Prof Anne-Marie McAlinden - Queen's University, Belfast 
Frank Golding - Care Leavers of Australia Network
Colm O'Gorman - Amnesty International Ireland
Chair: Mark McCollum - Adoptee, Campaigner
Panel Event 4
Jon McCourt - Survivors North West, Survivor-Campaigner for Historical Institutional Abuse Inquiry
Prof Brandon Hamber - Ulster University, expert on transitional justice
Gemma McKeown - Solicitor, Committee on the Administration of Justice
Sharon Burke - Born in Newry and adopted in Dublin whose mother spent time in Marianvale, Newry (Chair)
Information and Resources 
 
You can find out more about the Northern Ireland Executive's co-design process here, as well as how you can get involved here. 
An independent panel - Deirdre Mahon, Dr Maeve O'Rourke and Prof Phil Scraton - was appointed by the NI Executive in March 2021 to co-design the inquiry with survivors. Find out more and get involved here.
Mental Health Support
Mental health and counselling support services are available to anyone affected by these issues. Access to help and support in your locality, including through your GP and specialised healthcare professionals, can be accessed at www.mindingyourhead.info/services.
Lifeline is a free, confidential telephone helpline. It is available anytime every day 08088088000 
Downloads