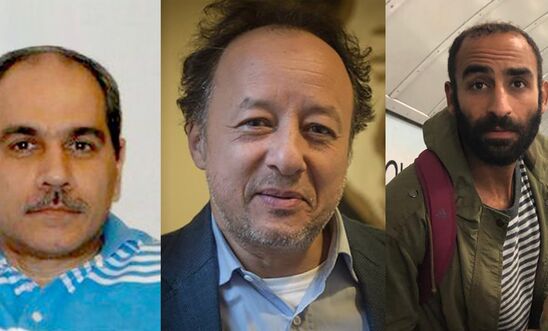 Karim Ennarah, who is recently-married to a British national, was on holiday when security forces took his belongings and arrested him. Mohamed Basheer's home was raided and he was arrested, blindfolded and questioned without a lawyer present. Father of two, Gasser Abdel-Razek, has been questioned twice in five days, forcibly had his head shaved, and is being held in solitary confinement in a cold cell without any warm clothes.
All three men work for the Egyptian Initiative for Personal Rights, one of the few remaining independent human rights organisations in the country following crackdowns by the state. Their work involves research and advocacy to strengthen and protect basic rights and freedoms in the country
After thousands of you took action and an surge of international pressure, Karim, Mohamed and Gasser were released from detention pending investigations into terrorism-related and other unfounded charges.
Their releases came in the wake of intense campaigning and mobilization involving activists, NGOs, journalists, celebrities, politicians and academics in Egypt and globally. In a coordinated and public response, states in Europe and North America, UN bodies and other multilateral institutions condemned their arrests and called for their release.
However, their release does not put an end to the existential threat facing the human rights community in Egypt. Human rights workers continue to be subjected to travel bans, asset freezes, and criminal investigations under "Case 173" or the "foreign funding case" into their legitimate work and could be sentenced to long prison terms.  Human rights defenders and other prisoners of conscience remain behind bars unjustly pending investigations into bogus terrorism-related charges, including EIPR gender researcher Patrick George Zaki.
Amnesty International will continue to monitor the situation, and campaign for the release of all those detained solely for peacefully exercising their human rights and for an end to the crackdown on the human rights movement in Egypt, including the closure of criminal investigations and the lifting of travel restrictions and asset freezes against human rights workers.