'Once in there, I could smell blood and hear screams of pain.'
Italia Méndez, a Mexican human rights activist and survivor of torture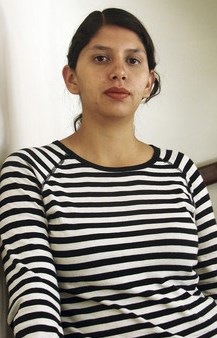 Italia Méndez travelled to San Salvador Atenco in the state of Mexico to document abuses by police against demonstrators involved in a protest.
She never thought she would be arrested and tortured herself.
At 6am on 4 May, police knocked down the door of the house she was in, pulled her by the hair, pushed her against a wall and beat her.
During the violent interrogation about her activities, Italia explained she was a human rights activist.
In response, the officer in charge told the others: 'She needs special treatment.'
Aboard the prison bus
'They struck my head with a piece of wood, covered my face with a jumper and took me inside a police bus,' Italia described in her account of that day.
'Once in there, I could smell blood and hear screams of pain. There were people piled all over the floor and the police made me walk on top of them.
'As I reached what felt like the end of the bus, they pushed me down and started beating me again, trying to suffocate me and then they raped me. I could not believe what was happening.
'As they were abusing me, they forced me to make sexual comments to them and said they were going to kill me. The beatings got so bad that at one point I felt a hand lifting beneath me and heard someone saying "please stop beating her".'
The journey lasted several hours until they eventually arrived at the state prison.
Doctors and lawyers in on it
Covered in bruises and cuts, Italia was taken to the prison's dining room where 47 other women, who had been held in connection to the protests, were waiting to learn their fate.
Italia was desperate to speak to a doctor or lawyer to show them her injuries and ensure they would be properly documented.
But when an official from the State Public Prosecutor's Office arrived, he refused to register her complaint about the abuse. No proper medical examination was carried out.
'The doctor who examined me kept laughing during the check-up. He stitched up my head without any anaesthesia, it was very painful.'
Italia was released on bail 10 days later and charged with 'attacks on public roads and means of transport' – these charges have since been dropped.
An eight-year fight for justice
Italia's ordeal happened eight years ago. Since then, she and 10 other women survivors from that day have denounced the violence and humiliation they suffered to the authorities at the highest level.
Two police officers face charges for the sexual torture, but the many others involved, including senior officials, continue to evade justice. The case is currently before the Inter American Commission on Human Rights.
'Torture is out of control in Mexico and it doesn't only affect the person suffering it, it hurts society as a whole. But I will always continue to fight.'
Italia Méndez
Who is at risk of torture?
Anyone. Nobody is safe once governments allow the use of torture. Almost anyone can be a victim, regardless of age, gender, ethnicity or politics.
However, some people are more vulnerable than others. Often, individuals are tortured because of their political views or because they belong to a particular religious group.
Many victims come from already disadvantaged groups – overwhelmingly it's the poorest – and those who find access to justice the hardest.
What you can do
Torture happens behind closed doors. It happens when there are no lawyers or doctors present, when police and those with power do not fear the consequences of their actions. But by ensuring safeguards are in place, we can stop torture.
Find out more about the five torture offenders we're focusing on over the next two years as part of our Stop Torture campaign:
Sign up now and you'll join millions of others around the world helping us to stop torture.