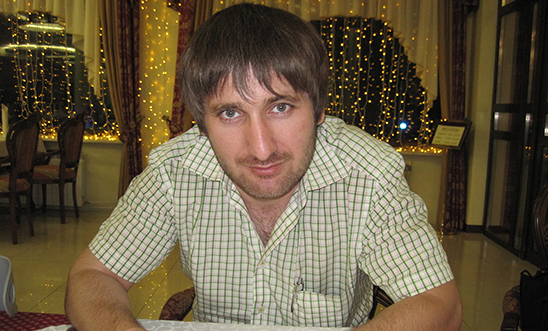 Magamed Abubakarov © Private
In February defence lawyer Magamed Abubakarov started getting anonymous text messages containing death threats.
Well known for taking on some of the most sensitive criminal cases in the North Caucasus region of Russia this wasn't the first time he had been threathned.
The North Caucasus region is an area where police are regularly accused of human rights abuses and in 2011 Magamed was involved in a suspicious car accident involving police.
The latest threats, in the form of text messages from an unknown number, began on 6 February 2013.  The sender demanded to know where Magamed was and told him he wouldn't be able to hide. The threats continued after Magamed reported them to police with one saying – in far more abusive language:
'The time to [talk] is over… [you will be talking] in a mortuary.'
Police failed to properly interview Magamed about the text messages, let alone find out who is sending them or put a stop to the intimidation.
However on 28 February, after thousands of Pocket Protestors sent messages, the Russian authorities open an investigation into the threats. Thank you to everyone who stood up to support Magamed.
We will continue to urge the Russian authorities to ensure the Ministry's inquiry is timely, independent and constructive, and we hope that Magamed will be able to continue with his legal work without further harassment while the authorities bring those who have threatened him to justice.
Law enforcement in the North Caucasus
Magamed is originally from Chechnya and now works in Kabaradino-Balkaria, another of the republics of the North Caucasus region. Everyday life in the North Caucasus is volatile and insecure, with armed groups frequently attacking civilians and local officials.
The authorities' response to the attacks tends to be heavy-handed. There are frequent reports of human rights violations against people expected of involvement in armed groups, including executions without trial, secret detention and torture of suspects.
Read our latest research on the region
The law enforcement agencies' heavy-handed treatment has also extended to the lawyers who defend those accused of belonging to armed groups. One of Magamed's colleagues, Rustam Matsev – the subject of another of our Urgent Actions – received a death threat from a senior police officer calling on his client to withdraw a complaint of abduction. A lawyer in nearby Dagestan was killed in the streets by security forces. The respective authorities have refused to investigate either the killing or death threats.
Magamed known for taking on sensitive cases
Despite all this, Magamed has dared to taken on some of the most sensitive criminal cases in the region, involving allegations against the police of abduction, torture and fabrication of charges. He has also drawn attention to his work by giving interviews to the media and has worked with several human rights organisations, including us.
Our supporters have previously campaigned on behalf of one of Magamed clients – Rasul Kudaev, a former Guantánamo prisoner who alleged torture and ill-treatment at the hands of local officials. It was exactly around the time he took on on Rasul Kudaev's case in 2007 that Magamed began to receive threats in connection with his work. Since then, threats have been regular.
On 15 December 2011 Magamed was badly injured when a car drove into him at full speed, crushing his leg and hospitalising him for several months. Just before he was hit by the car, he had been stopped by armed, masked police who asked to see his documents then told him to open the boot of his car. Initially he thought it was an accident, but Magamed became increasingly suspicious when the police did nothing to find the driver responsible, and wouldn't let him see the police file on the incident.