Looking for Rio - Saturday 7 June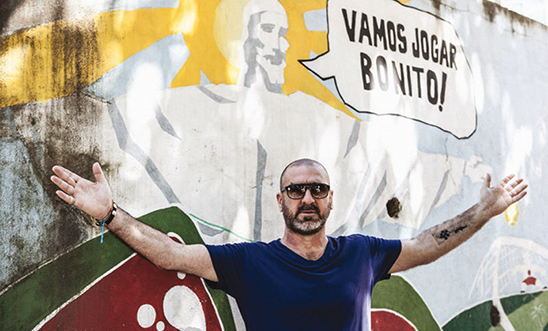 Eric Cantona © Romain Staros Staropoli
Saturday 7 June 6.15pm
UK Premiere
Location: Hackney Picture House, 270 Mare Street, London, E8 1HE
Directors: Emmanuel Besnard and Gilles Perez
Producers: Canto Bros. Productions and 13 Productions
Author: Gilles Rof
From Sugarloaf and Corcovado to Copacabana beach and cramped favelas, football is everywhere in Rio de Janeiro. Like Carnival, the game is an expression of the spirit and soul of the people of Brazil.
Seeking to capture this phenomenon, former Manchester United footballer Eric Cantona journeys back in time to discover the history of football in Rio through the narratives of its four main clubs: Flamengo, with its vast 39-million-strong domestic fan-base; Fluminense, favoured by the country's elite; Vasco de Gama, founded by Portuguese immigrants and a symbol of the fight against racism in Brazilian society; and finally Botafogo, a veritable conveyor belt for star players.
On the eve of the 2014 World Cup – already the subject of security concerns and mass protests over its enormous cost – Cantona employs characteristic wit and charisma to tell the tale of a city in which football is more than just a game: it's a way of life.
In discussion with the Cantona brothers
After the screening, Eric Cantona and his brothers Jean-Marie and Joel will talk about the making of the film and the inspiration behind it.
See the other films and events that are part of our Sidelines film festival