From London to Lilongwe: photo exhibition with Reggie Yates
We've joined forces with broadcaster, writer and director Reggie Yates to create a collection of photographs of people in the UK to throw a new spotlight on people living with albinism in Malawi and the dangers they face.
The powerful 'From London to Lilongwe' exhibition features people with albinism – a genetic condition which results in the absence of pigmentation in the eyes, skin and hair – to send a message of hope and solidarity to people with albinism in Malawi. Over the last two years in Malawi, there has been a surge in killings of people with albinism.
Visit the exhibition
Dates: 16 and 17 December 2016
Time: 12-6pm
Location: Huck Art Gallery, Shoreditch, London
Behind the scenes
Reggie Yates photographed four people with albinism – Deirdre from Ireland, Christian from Cameroon, Yemi from Nigeria and nine-year-old Zain born in the UK with Pakistani origin – to show their solidarity with people with albinism in Malawi.
'I have very little eyesight. Albinism makes my appearance different to others and I can stand out in a crowd, but it doesn't really bother me. I never let my disability hold me back.'

Zain, aged nine
Ritual murders of people with albinism
In Malawi, people with albinism are in danger of being abducted, mutilated or even killed because of false beliefs and superstitions. They are being hunted for their bones and body parts, and the perpetrators are going unpunished.
Attacks against Malawians with albinism are rising: there have been six reported killings in 2016.
Two-year-old Whitney was abducted from her bed while she was sleeping. Baby Whitney's skull, teeth and clothes were later discovered in a neighbouring village. Her brutal murder follows that of 9-year-old Harry, snatched from his home and found beheaded soon after.
The president says he supports greater protection for people with albinism, but not enough progress has been made yet.
When 11-year-old Annie Alfred grows up she wants to be a nurse. She also loves playing with her friends and she lives with her parents. But her life is in constant danger because she has a genetic condition: albinism.
'My message to Annie is that you're incredibly inspirational. The fact that you have the strength to be the face of a campaign like this, to me is super inspiring and hopefully you can inspire other people.'

Reggie Yates
Send a message of hope to people with albinism in Malawi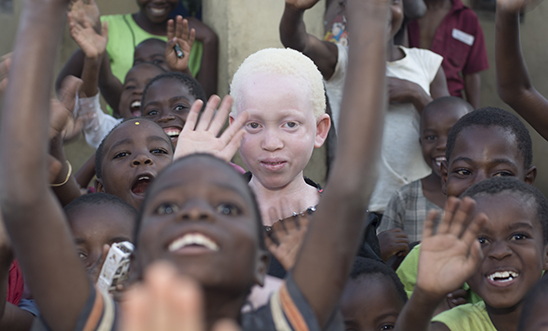 Image: Annie Alfred at school in Malawi. Amnesty International/Lawilink