Khalil Ma'touq, human rights lawyer missing in Syria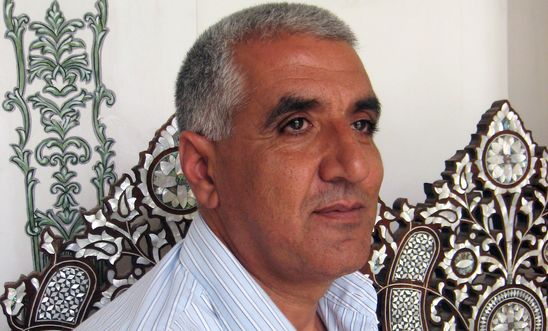 Khalil Ma'touq missing Syrian human rights lawyer
Khalil Ma'touq set off on his usual drive to work, from his home in the town of Sahnaya to nearby Damascus on 2 October 2012. He was accompanied by his friend and assistant Mohammed Thatha. Their route passed through many government-controlled security checkpoints. At one of these checkpoints, unofficial sources suggest that the men were arrested by members of the security forces.
Nearly two years later, Khalil and Mohammed are still missing.
We believe that he has been seized by the Syrian security forces and is being detained incommunicado by the state. The government refuses to answer questions about Khalil's whereabouts.
The Russian authorities have significant influence with the Syrian authorities and can use it, if they choose, to speak out for Khalil Ma'touq, and the tens of thousands of people who have 'disappeared' under Syrian forces.
Khalil has committed no crime. He is a human rights lawyer who dares to speak up for those who can't. We asked you to speak up for Khalil.  Over 28,500 people took action and called on Russia to use its influence to make sure that Syrian authorities reveal Khalil's location and release him from detention, unconditionally. Thank you to everyone who took action.
Punished for defending human rights?
Khalil Ma'touq is a human rights lawyer and the director of the Syrian Centre for Legal Studies and Research. He has defended hundreds of political prisoners and prisoners of conscience in Syria. Now he is a prisoner of conscience, detained solely for his peaceful and important human rights work.
Speaking out about government abuses in Syria was risky even before the current conflict began. Prior to 2011, security forces reacted to work like that of Khalil's with threats, intimidation, prosecution, arbitrary arrest and torture. Post-2011, the chances of being targeted and punished for speaking out have dramatically increased.
Khalil has been punished by the state for his work in the past - for example, he was banned from travelling between 2005 and 2011. He has committed no crime to warrant detention by the state; he is a prisoner of conscience, punished for speaking out against the regime.
Out of reach of loved ones and justice
We do not know where Khalil is. But we do believe that he is being detained by Syrian state security forces.
We have received credible information from released detainees who have sporadically reported seeing Khalil and Mohammed in a number of different detention centres run by Syrian security forces. Khalil's friends and family have received other unofficial tip-offs from released detainees. The last reported sighting Khalil was in a military intelligence centre, one year ago.
Khalil's family and lawyer have repeatedly asked the Syrian government for information about Khalil's whereabouts, but the government has at times ignored their requests, and when pressed, claimed not to know of Khalil's detention.
At risk of torture or even execution
Conditions in Syrian detention centres are horrific. We have documented widespread and systemic use of torture against detainees by the Syrian regime since the conflict began.
'When someone is arrested and detained in secret the likelihood is that they will be tortured to extract information from them or as a form of punishment. Syria's sickening track record means there is a high risk such abuse will result in serious damage to the disappeared person's health or even death.'
Philip Luther, Amnesty Middle East Director
In need of medical treatment
Khalil suffers from a chronic inflammatory condition of his lungs and has severe breathing difficulties. He needs regular medication and medical supervision, neither of which are likely to be available to detainees currently imprisoned in Syria. Khalil's family have heard concerning reports from ex-detainees that Khalil's health has gravely suffered in detention.
Syria's 'disappeared'
Imagine suddenly vanishing off the face of the earth, with no one - not even your closest family - knowing where you are, why you were taken away, and what's become of you. You may have done nothing wrong, but you don't have a chance to defend yourself, get legal help, hope for a trial or even communicate with your family to let them know where you are.
Tens of thousands of people like Khalil have 'disappeared' at the hands of Syrian state forces in the last three years. For many years, Syria has held detainees in secret locations, unable to communicate with the outside world - and these disappearances have increased dramatically since 2011.
When state forces hold people incommunicado like this they are violating many human rights. When they do so on a mass scale, as Syrian forces appear to be doing, it can constitute a crime against humanity.