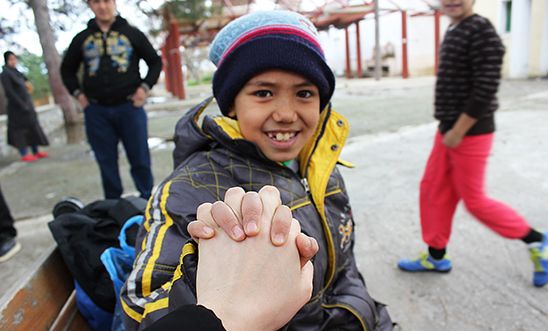 Join us for justice and human rights for all
As a member of Amnesty International UK's Circle of Conscience, you will be amongst like-minded individuals who are dedicated to justice and human rights for all. As a member, you will be right at the heart of our work. We will keep you involved with the issues that interest you most; you will have opportunities to spend time with our investigators who work on the ground in conflict zones; you will be invited to join our most prestigious events and should you wish, you can share your details and network with other passionate and influential members.
To become a member, we ask for an annual donation of between £2,500 and £10,000 for three years. A three-year commitment gives you the opportunity to invest in our strategy and helps us to plan, implement and deliver our human rights work – from documenting human rights abuses in war zones and telling the truth about what is happening, to defending individual people whose rights to freedom of speech have been denied.
What your gift can achieve
'As a member of the Circle of Conscience I support Amnesty's campaigns to defend human rights and encourage mutual respect and understanding. In this time of change and uncertainty this work is more important than ever. Amnesty's coordinated approach at the local, national and international levels is vital and I feel privileged to be able to play a part in enabling this work and to learn from the experience of Amnesty's researchers and campaigners.'

Sara Alders, Circle member
Find out more about just some of the things Amnesty's supporters helped achieve in the last year and learn more about how we deliver results - from our independence to our commitment to long-term campaigning
Join the Circle of Conscience today
To join us, please complete the sign-up form. For more information about Amnesty's work or the Circle of Conscience, please contact us:
Telephone: 020 7033 1660
Email: circleofconscience@amnesty.org.uk
Amnesty International UK
17-25 New Inn Yard
London
EC2A 3EA