Mass exodus as ISIS continue to attack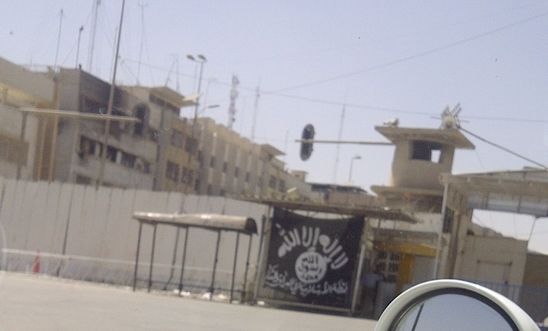 The Islamic State of Iraq and al-Sham (ISIS) flag flying in Mosul. © Amnesty International
'They killed the 15 men and took the women and children and until now we do not know what happened to them, where they are or if they are alive or dead.' 
A relative of the missing families in Khana Sor, Sinjar, Iraq.
Killings and abductions by the Islamic State in Iraq and al-Sham (ISIS) are mounting as the militants continue their advance on north-west Iraq.
Fearing for their lives, thousands of terrified Iraqi civilians have fled their homes to escape the violence.
Donatella Rovera, Senior Crisis Advisor at Amnesty, is in Iraq gathering evidence on the reported atrocities by ISIS groups. She spoke to relatives of an 18-year-old boy and his 44-year-old uncle who were abducted at an ISIS checkpoint in June.
The boy's mother found their mutilated bodies two days later. She showed us photos of the bodies; their heads had been smashed with heavy objects and their hands were cuffed behind their backs. One had had his throat cut and his body was partially burned.
Abductions just like this have taken place in every town and village that has fallen under ISIS control, according to our  briefing Northern Iraq: Civilians in the line of fire, which sheds light on the atrocities.
'The situation for Iraqis in the north-west of the country, especially those from the Yezidi and Christian minority communities, is becoming increasingly dire as both residents and many of those already displaced are now fleeing their homes and places of shelter.'
Donatella Rovera, Senior Crisis Advisor at Amnesty 
Trapped by violence
Hundreds of civilians from the town of Sinjar are missing – feared dead or abducted. Many more are trapped without basic necessities or vital supplies in the Sinjar Mountain area. Most are members of the Yezidi minority.
Trapped without electricity means those affected are unable to communicate with their families and the outside world.
#Iraq Harrowing stories from Sinjar: Parents & granny could not run. Left them 2 take kids 2 safety.Went back not found them. ISIS took them

— Donatella Rovera (@DRovera) August 10, 2014
Seeking vengeance
ISIS is not the only group that has committed war crimes and human rights abuses.
We have evidence to show more than 100 Sunni detainees were killed in cold blood by government forces and Shi'a militias in vengeful attacks before withdrawing from the cities of Tal 'Afar, Mosul and Ba'quba.
Indiscriminate artillery shelling and air strikes by government forces against ISIS-controlled areas have also killed and injured dozens of civilians. Air and artillery strikes by Iraqi forces have intensified in recent weeks, increasing the danger to civilians.
Follow our Storify for more stories from Iraq
End the killing
Even in the midst of war, killing prisoners is a crime. We're calling on ISIS and all armed groups and forces on every side of the conflict to end the killing and torture of prisoners, as well as the deliberate and indiscriminate attacks on civilians – all are war crimes under international law and those responsible must be brought to justice.