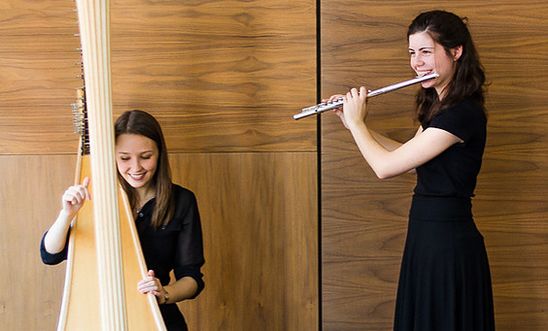 © Jon Harvey
Dear Supporter of Amnesty International
I am happy to be able to tell you that Sarah Miller (flute) and Elinor Nicholson (harp), the Meridiem Duo, who gave us such a delightful evening in January 2016, are coming to play for us again on Friday 26 January 2018, starting art 7.30 pm. Their programme will include transcriptions of works by Bach, Bizet and Debussy, as well as pieces specifically written for their combination of instrumentsby composers such as Nino Rota and William Alwyn.. They will again be playing under the auspices of Live Music Now. The concert will take place in the Judi Dench Theatre at Hymers College, Hymers Avenue, Hull HU3 1LW, by kind permission of the Headmaster. 
I have attached a site plan. To get to the theatre (no. 11 on the plan), go right to the end of Hymers Avenue (do NOT turn into the main school gates). Then 
if you are coming by car, turn left to go to the East Car Park, where there is ample free parking, including some spaces very near the entrance to the theatre. To find the theatre, look for the entrance marked 'Sports Centre and Stephen Martin Music School';

if you are coming on foot (the school is well served by buses going along Spring Bank), when you get to the end of Hymers Avenue, go straight ahead through the gateway, then turn left and continue to the theatre. 
Tickets, which cover the concert and interval refreshments, cost the same as before - £15 for adults and £10 for those under 18 as well as students with a student card. They may be ordered by telephone (01482 563235 01482 849443 or 07584 079252), by email (aubus@aubus.karoo.co.uk or hullamnestygroup@gmail.com), or by filling in the attached booking slip and sending it to the address given on it. Please include a cheque made out to Hull Amnesty Group, as we cannot accept payment by credit or debit card. (If you have not got a chequebook and want to pay by bank transfer, please get in touch with me.) If you wish to have your tickets sent to you, please also send a stamped addressed envelope; otherwise they will be available for collection on the night. 
For catering purposes, it would be helpful if you ordered your tickets no later than a week before the concert. Please let us know if you need seating for a disabled person or have special dietary needs.
I very much hope you can join us on 26 January. Please pass on this information to anyone else who might be interested.
Yours sincerely
Gertrud Buscher
Gertrud Aub-Buscher
6 Strathcona Avenue
Hull
HU5 4AD
Tel. +44 (0)1482 849443
Email: aubus@aubus.karoo.co.uk or gebuscher@gmail.com
View latest posts