Write for Rights during Lockdown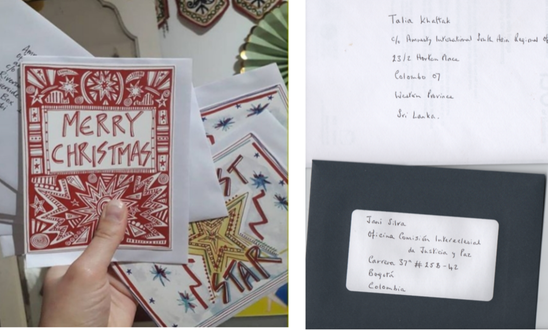 On the 15th December, Amnesty Westminster met online for our monthly meeting. Our members were feeling suitably christmassy as we shared music with each other and prepared to do our Write for Rights campaign over Zoom. 
Write for Rights is an annual Amnesty campaign that runs through November and December. Every year, a list of 10 human rights defenders is compiled by Amnesty UK and members are encouraged to write and send cards of well wishes all over the world.
Connected online from sitting rooms and kitchens across South London, our Westminster members spent two special hours hand-writing cards to people suffering injustices in countries such as Chile, Colombia and Burundi.
 In line with Amnesty Westminster's particular interest in Saudi Arabia, we were happy to discover that the son of imprisoned Women's Rights activist, Nassima al-Sada, had been chosen as a recipient of the campaign. 
 In our cards to Moussa, Nassima's son, we wrote of our solidarity with Nassima's activism- her work in education and her promotion of human rights. We hope that the Write campaign has helped to provide feelings of hope and support to campaign recipients, such as Moussa, in their times of immense hardship.
 At Amnesty Westminster and Bayswater, our hearts were warmed by the simple act of writing to people around the world. A simple but effective way of showing our support and gratitude for the brave activism of human rights defenders. Our message: We see you and we support you.
(HA)
View latest posts