Join and support events and actions around the Alternative Human Rights Expo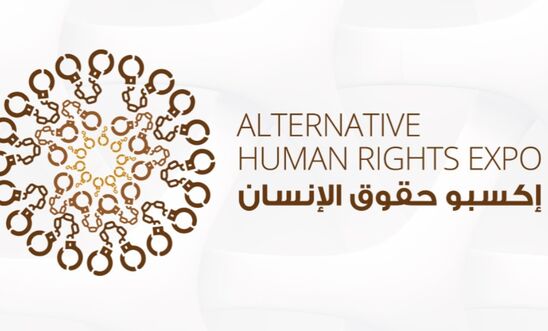 On 1 October 2021 the Expo opened in Dubai. It will run until March 2022. It will be the first expo in the Arab world. Dubai and UAE uses the Expo to present themselves as an open and tolerant nation. Their motto is "Connecting Minds, Creating the Future through sustainability, mobility and opportunity". However, this motto sounds hollow and hypocritical given that all UAE Human Rights Defenders are locked up and serve long sentences in horrible conditions just because they tried to share their ideas, connect with minds around the world and wanted to create a positive and open future for the UAE and the Arab worlds. 
Gulf Centre for Human Rights together with 20 other Human Rights Organisations decided to organise and "Alternative Human Rights Expo". In the context of this other expo there will be an online event (similar to last years "Prisoner and the Pen" which we, Amnesty Westminster Bayswater, organised together with Gulf Center for Human Rights), social media actions, an open letter and a petition. 
We want to invite everyone to join and participate in these events and actions. You can find more information on the website of the Alternative Human Rights Expo. 
1. Open Letter: 
On the 1 October 2021 more than 80 Human Rights Organisation signed an open letter addressed to the UAE authorities and asked for the immediate and unconditional release of UAE human rights activists. The letter mentions in particular the pro-democracy activists which were sentenced in in the infamous UAE94 trial. These include i.a. Abdullah Al-Hajiri, Omran Al-Radwan Al-Harathi and Mahmoud Hasan Al-Hosani who completed their sentences in 2019, and Fahd Al-Hajiri who completed his in 2020. Instead of being granted release, these prisoners were transferred to a so-called Munasaha centre, a "counselling centre" within Abu Dhabi's Al-Razeen prison facility. Three UAE 94 prisoners currently serving 10-year sentences are human rights lawyers Dr. Mohammed Al-Roken and Dr. Mohammed Al-Mansoori, and Mohammed Abdul Razzaq Al-Siddiq.In addition the letter also mentions Ahmed Mansoor and Dr. Nasser bin Ghaith who both serve 10 years in prison. 
You can find the complete letter here. 
2. Petition
There was also a petition launched which asks individuals to speak up for the UAE human rights activists, in particular Ahmed Mansoor, Dr. Nasser bin Ghaith, Dr. Mohammed Al-Roken, Dr. Mohammed Al-Mansoori and Mohammed Abdul Razzaq Al-Siddiq. Please sign and share the petition widely. 
3. Online Event: Alternative Human Rights Expo
We are delighted to invite you to an online event on Thursday, 14 October at 6 pm (London time). The event will not only focus on human rights defenders and prisoners of conscience in UAE, but generally in the Middle East. The event will include the works of: 
Ahmed Mansoor & Mohammad Al-Siddiq, UAE
Abdulhadi Al-Khawaja, Bahrain
Golrokh Ebrahimi Iraee, Iran
Alaa Abd El-Fattah and Sanaa Seif, Egypt
You can join the event via Zoom. The joining details are https://zoom.us/j/94678956014. It is also planned to live stream the event on Gulf Centre for Human Rights YouTube channel.  
4. Protests on 22 October 
22 October is Ahmed Mansoor's birthday. Human Rights Organisations in different countries will protest on this day for the release of Ahmed Mansoor, but also other UAE Human Rights Defenders. The protest in London is planned for the early afternoon on Friday, 22 October. Please get in contact, if you are interested in joining the protest. 
5. Social Media Campaigns and more
There will also be Social Media Campaigns throughout the Alternative Human Rights Expo. They will focus on different countries and topics by month. Follow us and other participating organisations like Gulf Centre for Human Rights, ICFUAE, ECDHR, IFEX, Mena Rights, etc. on Twitter and make sure you use the campaign's official hashtags: #FreeEmiratiActivists and #AltExpoHumanRights.
It is also planned to show in March 2022 the documentary Film "Billion Dollar Dissident" by Manu Luksch. It is a film about Ahmed Mansoor and we are sure it will be fascinating. Until then you can watch Manu's film "Sing and Cry, Cry and Sing' about Artur Ligeska and his imprisonment in the UAE. Artur was a friend of Ahmed Mansoor who was in the same prison as he. Sadly Artur died suddenly in May 2021. You can watch the film here free of charge and you can find more information the film and its background here. 
View latest posts