Countdown Videos to Nazanin Zaghari-Ratcliffe's release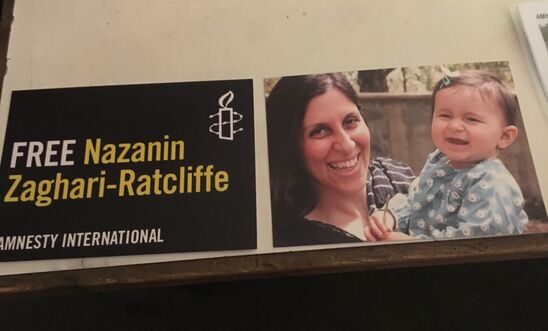 On March 7th 2021, Nazanin Zaghari-Ratcliffe's 5 year sentence should officially end.
The world is waiting to hear if the Iranian government will release Nazanin and allow her to return home to the UK, to her husband Richard Ratcliffe and their young daughter, Gabriella Ratcliffe.
To mark the end of her sentence and the possibility of her being kept trapped in Iran due to the outstanding second court case they are holding against her, Howell Productions and Amnesty Westminster & Bayswater, with the help of the Free Nazanin campaign, are planning a 10-day countdown, the #FreeNazaninCountdown.
Each day from the 26th February we will release a video counting down the last ten days of Nazanin's sentence. Nazanin has been held for 1,788 days currently.
The videos will range from celebrities or cast members of "Nazanin's Story" reading out poems and letters from Nazanin, as well as a selection of poems from other current or past prisoners held with Nazanin, who are or were unjustly detained and sentenced.
The countdown will culminate in a final, group poem, written by Nazanin and read by a selection of supporters and public figures. This will be released on March 8th, International Women's Day, in the hope we will be celebrating Nazanin's safe return home or to raise awareness of her imprisonment going beyond her sentence.
Nazanin's detention and sentence are unjust. She has been tortured and abused and should never have been seized at the airport in the first place.
She has served 5 years for a crime she did not commit.
Keeping her longer only proves that she was imprisoned and held for far more nefarious reasons.
Her case also helps to highlight the similar plight of others falsely held against their will and contrary to International law, by the Iranian government.
Our message is to Bring Nazanin Home, #BringthemHome.
View latest posts