In the spotlight: Ahmed Mansoor (UAE), prisoner of conscience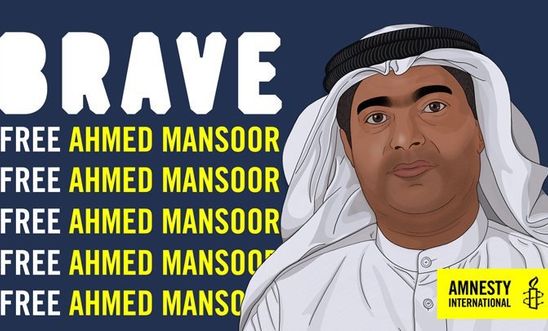 The focus on prisoners of conscience is central for the work of Amnesty International. One way how local groups can work on prisoners of conscience is by adopting a specific prisoner of conscience and then work on his or her case and campaign for him or her. Our group recently decided to adopt Ahmed Mansoor from the United Arab Emirates. We spoke about him in our last meeting and also exchanged some ideas how we will campaign for him. 
We want to use this post to introduce you to Ahmed Mansoor and encourage you to join us and campaign for him. You will find different ways how you can do so at the end of this post. 
1. Who is Ahmed Mansoor? 
Ahmed Mansoor is an engineer, a blogger and a poet. He was born on 22 October 1969 and is married. They have four small boys. 
He is also an international highly regarded human rights activist. He is member of Human Rights Watch's Middle East Advisory Committee as well as the Advisory Board of the organisation Gulf Centre for Human Rights and he also worked closely with Amnesty International. In 2015 he received the prestigious Martin Ennals Award for Human Rights Defenders. 
On 20 March 2017 security forces entered Ahmed Mansoor's home. They searched the place for three hours, confiscated all phones and electronic devices and took him around 3:15 am to an undisclosed location.
This arrest was just the culmination of years of physical assaults, harassment, travel bans, death threats and different sorts of surveillance and hacking attacks against his phone and his computer.
His family did not hear from him for the next two weeks. On 3 April he was allowed a short supervised family visit. He was being held in solitary confinement and had no access to a lawyer.
2. Why is he in prison?
Ahmed Mansoor's harassment started in March 2011 after he had signed a petition to demand the introduction of universal direct elections for the Federal National Council, a quasi-parliamentary body, and give them full legislative power. A month later he was arrested and charged with "publicly insulting the State President, its flag or national emblem". On 27 November 2011 Ahmed Mansoor was sentenced to three years in prison. The following day the President of the UAE pardoned Ahmed Mansoor and the four other defendants. However the charges were not dropped and Ahmed Mansoor was denied a passport and banned from travelling.
Ahmed Mansoor continued to campaign against injustice and for prisoner of conscience in UAE, but also generally in the Middle East. He used in particular his Twitter account to do so. Until his arrest he was the last human rights defender in UAE who was brave enough to speak out against human rights violations and the last source of information for many human rights organisations. 
About one year ago, on 29 May 2018 the State Security Court sentenced Ahmed Mansoor to 10 years in prison and a fine of 1 million Emirati Dirham (ca. GBP 200,000). Following the 10 year-sentence he will be put on probation for three years. He was found guilty of publishing false information on social media which "insulted the status and prestige of the UAE and its symbols", "incited hatred and sectarian feelings" and for "damaging the relationship of UAE with its neighbours" by publishing false information. 
On 31 December 2018 the Court of Appeal upheld the sentence against him.  
Amnesty International considers Ahmed Mansoor to be a prisoner of conscience who is in prison solely for peacefully exercising his right to freedom of expression, including through his human rights work. 
3. What is his current situation?
Ahmed Mansoor's current situation is horrible. It is really difficult to get any information about his situation, but Gulf Centre for Human Rights recently published information they received from a former prisoner. Their article is called "A look inside Ahmed Mansoor's isolation cell after two years in prison" and is well worth reading. 
Ahmed Mansoor started a hunger strike on 17 March 2019 to protest against the unfair trial and the horrible prison conditions. He ended the hunger strike after about four weeks because the authorities promised to address his demands, but not much has changed. 
Ahmed Mansoor is in isolation in Al-Sadr prison in Abu Dhabi. He has been in solitary confinement the whole time since his arrest more than two years ago. His cell is 4 x 4 m with a door with a small window and a small window eight meters up the wall which allow sunlight for three hours a day. Other prisoners in the isolation ward are allowed to leave the cell for the canteen. Ahmed Mansoor has not been allowed to leave the cell during the whole time except for a few family visits (maybe 5 - 6 visits since his arrest). After the publicity of the hunger strike Ahmed Mansoor was once allowed to go outside to the sports yard. 
His cell has no bed and no running water, also not in the toilet which is basically a hole in the floor. He had been sleeping on the floor since his detention in Al-Sadr prison. Now he might have received a mattress. He has no access to a shower. Prisoners must keep their own cell clean, but that is difficult without running water and cleaning supplies.
There had been allegations of torture of Ahmed Mansoor. The former prisoner did not witness any physical torture of Ahmed Mansoor, but says that it is psychological torture to be kept in a small cell in "medieval conditions".
4. What can we do to help Ahmed Mansoor?
Our group had already organised one event "Word for the Silenced" in which we included his poetry and tried to raise awareness for him earlier this year in March. We are thinking about further actions and events in the future, in particular also a protest, hopefully together with other groups at the UAE Embassy which is very close to our regular meeting venue. 
If you want to help, there are several ways what you can do: 
a) You can raise awareness for Ahmed Mansoor on Social Media. If you tweet about him, then please use the hashtag #FreeAhmed. You can send tweets to HH Prime Minister of the United Arab Emirates Sheikh Mohammed Bin Rashid al-Matkoum @HHShkMohd and His Highness President of the United Arab Emirates Sheikh Khalifa bin Zayed Al Nahyan @MohamedBinZayed. Please also tag his account @Ahmed_Mansoor.
b) A group of supporters of Ahmed Mansoor recently started a Facebook page @FriendsOfAhmedMansoor and a Twitter account @FriendsofAhmed. Please consider liking the page and following the Twitter account and the Facebook page. 
c) We want to start a letter rota and make sure that once a week at least one letter will be sent to the UAE authorities by us which asks for Ahmed Mansoor's release. If you want to join this letter rota, then please get in contact.
We plan to have a email distribution list for everyone who is part of the rota and we want to make sure that we have a sample letter and keep everyone updated on current developments. 
Therefore to be part of the letter rota will not require a great effort from you, but we think we can make a difference, if we constantly remind the UAE authorities that Ahmed Mansoor is not forgotten and that we will not be quiet until he is finally released. Please help us with this task. 
View latest posts