Oscar Jenz and Joe Odell about Human Rights in the United Arab Emirates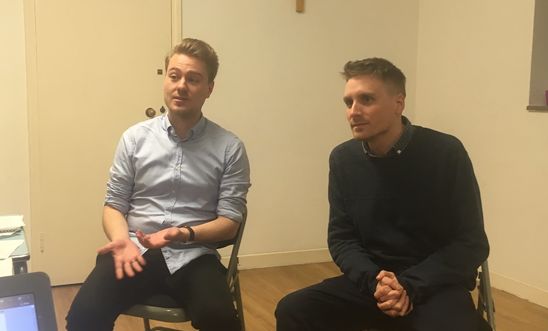 In our last meeting we had the great pleasure and honour to have two guest speakers: Oscar Jenz and Joe Odell. They spoke about the human rights situation in the United Arab Emirates (UAE).. 
1. Oscar Jenz is country coordinator for UAE. He said that he wanted  to speak in particular about migrant workers, the war in Yemen and women's rights.
Oscar started with some explanations about the background. Historically the UAE were a very poor area (before the discovery of oil). Until about 1900 the area was run by nomads. From 1870 British Empire came into the area and the UAE was established. UAE consist of seven emirates: Abu Dhabi,  Ajman, Dubai, Fujairah, Ras Al Khaimah, Sharjah and Umm Al Quwain. Abu Dhabi is historical the capital and it is very oil rich. Dubai recently become more important for Finance business (Dubai Financial International Centre).
UAE are very concerned about their public image. The recent Papal Visit and decision to announce 2019 as "Year of Tolerance" are good will campaigns. There are quite important links between UAE and UK. The football club Manchester City is owned by the Royal Family from Abu Dhabi. Louvre in Abu Dhabi has recently opened and the most expensive painting (Salvator Mundi by Leonardo) was recently bought be on behalf of the Abu Dhabi Department of Culture and Tourism. UAE also play an important role in the redevelopment of Manchester.
2. If one looks at the situation of migrant workers it is important the keep the following data in mind: There are about 9 million living in the UAE, but only 1.4 million citizens. The current economic system depends to a high degree on migrant workers. The UAE know the "Kafala system" which is equivalent with modern slavery. Every unskilled worker needs a citizen as sponsor. That is usually the employer who is then also responsible for visa and legal status. Very often employees take away the passports of these workers, do not pay wages and migrant workers are subject to police brutality and abuse from many employers. They have no rights. That is in particular a problem for female domestic workers (mainly from East Asia) who very often face sexual abuse. The situation is also difficult for workers in construction. Emirati citizen usually get easy jobs in government. There are some recent developments which try to improve the situation of migrant workers.
3.  Oscar spoke next about women's right in UAE. The situation is not as bad as Saudi Arabia, because there is no guardianship system. Nevertheless, women face discrimination in society. Legally also women have the right to ask for a divorce, but this is not socially acceptable. There are a couple of recent cases which was reported in the media: There is one women from UAE who fled to in Macedonia and claimed asylum because of her fear of her family. Another high profile cases is the case of the daughter of the Emir of Dubai, Princess Latifa. Princess Latifa tried to escape about a year ago and was captured. There is a risk that she is kept against her will and was tortured.
4. Then Joe Odell took over. He is Press Officer for the International Campaign for Freedom in the UAE and spoke about prisoners of conscience.
As a general background Joe said that it is difficult to campaign for human rights in UAE, because of the quite positive public image in the West. However, UAE is a sophisticated police state which uses state of the art surveillance technics. There is no freedom of the press. Every dissent is supressed. The situation for civil society got worse in the last five or six years. There more arbitrary detention and unfair trial then every before.  
a) Joe said that during the Arab Spring, there were not many demonstrations on the street, but there were other signs of discontent. There was a petition signed by 164 signatories which asked for democratic changes. 94 of signatories were arrested and were disappeared for one year. The following trial was the infamous UAE94 trial which took place between March and July 2013. The trial was unfair and the defendants were not allowed to defend themselves efficiently. One of the UAE94 defendants was Dr. Mohammed Al-Roken. He is a human rights lawyers who had received a number of prestigious award and was generally internationally highly regarded. He was sentenced to ten years in prison for defending human rights. He serves the sentenced in Al Razin Prison, a prison with predominately political prisoners. Dr. Al-Roken had been tortured and mistreated since he is in prison.
b) Another highly regarded person who was imprisoned is Dr. Nasser Bin-Ghaith, an internationally acclaimed academic. He was arrested in August 2015. In March 2017 he was sentenced to then years in prison for criticising UAE on Twitter. Dr Bin-Ghaith had been on hunger strike for several times. The last time he was on hunger strike for more than 70 days. His health has declined.
c) Another recent cases is the case of Alia Abdelnoor. Alia was arrested in 2015. In 2017 she was convicted on terrorism charges in an unfair trial. She was sentenced to ten years in prison. After her arrest she was diagnosed with breast cancer. Her health has deteriorated. She does not receive proper medical treatment. Her family asked for early release on medical grounds to enable her to die at home, but this was denied
d) Finally Joe mentioned the case of Ahmed Mansoor. He faces harassment and persecution since 2011. He was the last person who was free and who was prepared to speak about human rights. Ahmed Mansoor was arrested on 20 March 2017 arrested. In May 2018 he was sentenced to ten years in prison. The court of appeal upheld this judgement on 31 December 2018. He was disappeared for more than one year and his whereabouts are still not quite clear. He spent long time in solitary confinement and the trial against him was unfair, i.a. he could not choose his own lawyer.
5. Members of the group had a number of questions:
a) The first question was what everyone can do to campaign for human rights in the UAE. Joe and Oscar explained that there are historically close relationship between UK and UAE. UK has quite a lot of leverage in relation to UAE, because UAE is a strong trading partner and UK wants strike a trade deal. Oscar suggest that the group can contact their local MP and try to influence the foreign policy of UAE.
They highlight the strong economic interest of UAE in UK. This can be seen by the Emirates stadium and the Emirates FA Cup. It was already mentioned that the Louvre has a branch in Abu Dhabi. Generally is the Royal family highly interested in prestige. They want to buy the "good will" of the West. This means that the power goes two ways and that the West could have influence in UAE.
Oscar explained that the Manchester Amnesty Group is very active and campaigns to raise awareness of human rights situation in UAE
b) The second question refers to the war in Yemen. Oscar is asked to say a few words about it. He said that the reasons for the war go back to the Arab Spring.
Traditionally North Yemen was held by tribal groups who are Shiites and South Yemen was at one time a British colony, then later communist. Following the Arab Spring the old authoritarian president Ali Abdullah Saleh was meant to hand over power, but different groups favour different successors.
The coalition with Saudi Arabia and UAE supports the government of  Abdrabbuh Mansur Hadi. The Houthi forces are against him. There are also different tribes and other groups involved in the war. Saudi Arabia basically does areal strikes and bombs everything (included hospitals), but UAE is really driving the war. UAE was arming militias in the North and a lot of the militia are ex-Al Quaida.
Oscar mentions a recent Amnesty Report: "God know where he is" about the secret prisons in many cities across Yemen. There is also in the meantime a humanitarian crises in Yemen. They need food or people will starve. It seems that the Saudi coalition targets non-military targets and that UAE buys arms in the west and gives it to militias.
UK sells a lot of weapons. Saudi Arabia is the largest purchaser of weapons and UAE is the second largest purchasers of weapons. Oscar also mentioned that CAAT had sued the UK government. A arms sale cannot go ahead, if the government has "reasons to belief that war crimes are committed". The court of first instance denied the claim, but there will be an appeal. There is also a current Amnesty UK petition which asks for a stop of arming the Saudi-led coalition
c) One member asks about the recent visit of the Pope in UAE. Oscar says that the situation is complicated. A lot of people think that life in UAE is very good and they have fond memories. There are also a number of aspects which are better in UAE than in Saudi Arabia. UAE and Saudi Arabia both have the death penalty, but UAE might phase out death penalty. UAE is also relatively tolerant towards other religions. However, Oscars pointed out that "tolerance" does not only have something do with other religions, but also towards individuals. There is no tolerance towards other opinions and no freedom of speech in UAE. Many people think that the pope should have mentioned the general human rights situation in UAE.  
The group is very grateful to Oscar and Joe for an excellent detailed talk about human rights in the United Arab Emirates. 
View latest posts