Great Success at the Carol Singing on 4 December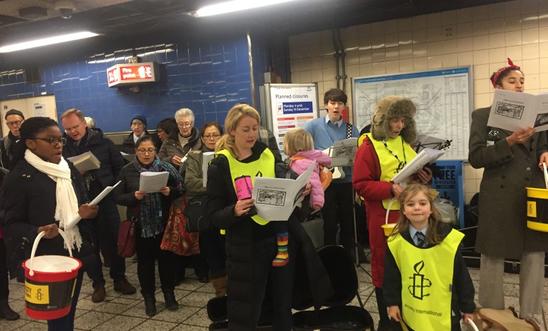 Singing and collecting at Pimlico Station
We would like to say thank you to everyone who supported the Carol Singing at Pimlico Station. 
On 4 December at 4:30 pm a group of roughly 20 people - old and young - met at Pimlico Station to sing Christmas Carols and collect money for Amnesty International. We also handed out information about Amnesty International's work.
This was really a fantastic turn out and made sure that our carols were heard during the busy rush hour at the station with many people coming home from work. The singers were supported by two wonderful guitar players who made sure that everything stayed together. 
We sung popular Christmas carols like Hark the Herald Angel, Away in a Manger, O Come All Your Faithful, The First Nowell, Good King Wenceslas, Jingle Bells and many more.  
It was not only great fun and wonderful start in the advent season, but it was also a really successful collection. In two hours we collected over GBP 830. That is a fantastic result for Amnesty International and human rights. We are very grateful to everyone who gave so generously. 
Thank you very much and we hope to be back next year in the December for more Christmas Carols and more collection buckets and boxes in support of Amnesty International. 
View latest posts