WriteforRights event Saturday 9th December at Newchurch Parish Hall, Culceth 10.30am to 1pm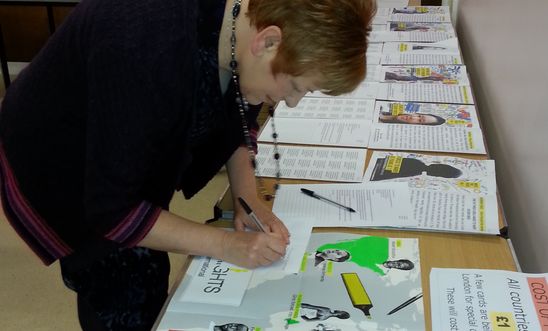 Taking part in WriteforRights last year
Come and be part of the world's biggest human rights event on Saturday 9th December at the Newchurch Parish church hall, Culcheth (next to Sainsbury) from 10.30am to 1pm.  We invite you to sign a card to send to selected individuals and groups who are at risk of human rights abuses.  Everything is provided including suggested messages so we just need a few minutes of your time.
If you haven't been to this annual event please come along and have a look at the cases and sign a card.  We will be serving light refreshments as a thank you for your support and also have some secondhand books for sale to pay towards the postage of the cards, so you can also stock up for Christmas reading for family and friends.  Kindles are great but you can't beat being cosy with a good book on a cold day!
We look forward to seeing you.
Downloads
View latest posts