VOLUNTEERS WANTED - Have you a couple of hours to give twice a year?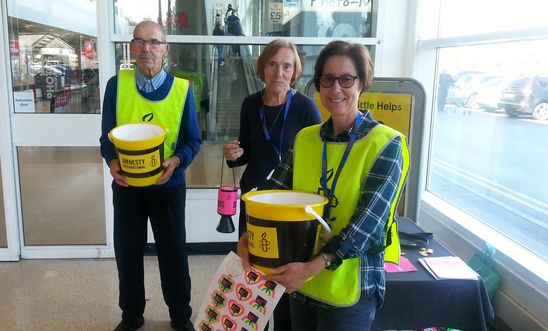 Collecting at Tesco Altrincham
The Warrington Amnesty Group are a small, friendly bunch of people who are passionate about human rights.  Sometimes we help those at risk through petitions and letters but we also need to raise funds to support Amnesty's representatives on the ground.  Their work involves research, training and actions for individuals and groups who are unable to stand up for or who are denied basic human rights.
Our main fundraising events are bucket collections at supermarkets and street collections.  We work in pairs on a rota basis and would welcome new volunteers as our pool of helpers is not very large!  This year we aim to have two collections at Tesco (Warrington and Altrincham) and two in Stockton Heath. If you can give one or two hours to help us collect once or twice a year please contact Evelyn on 01925 268871 or email benkin64@talktalk.net.
Collectively, we make a difference so to find out more about good news stories at   https://www.amnesty.org.uk/issues/good-news.
Thanks you (in anticipation) for your help.
View latest posts